UK digital ad spend rises £7.3bn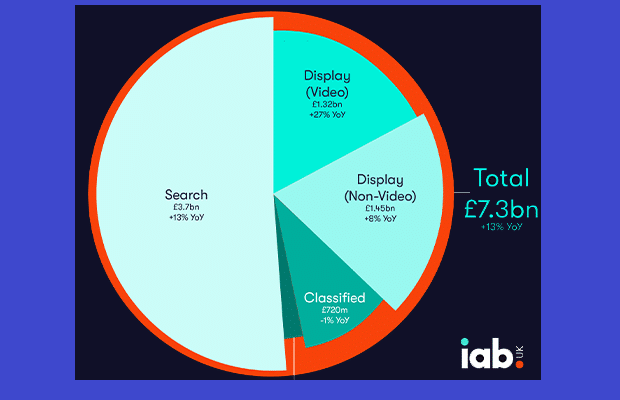 Total UK digital ad spend was up 13% year on year in the first six months of 2019, according to IAB UK's half year Adspend update
Conducted with PwC, the analysis shows that Display (video) and Search were the biggest drivers of growth between January and June 2019 – up 27% and 13% respectively.
Search now accounts for £3.7 billion of total H1 digital ad spend, while combined Display (video and non-video) is worth £2.8 billion, a 17% annual uplift.
Non-video remains the largest Display format (up 8% YoY to £1.45 billion), but video formats are growing fast (up 27% to £1.32 billion).
Commenting on the report, IAB UK's Chief Digital Officer Tim Elkington said: "It's reassuring to see advertisers' continued confidence in digital advertising, despite the ongoing political and economic uncertainty surrounding Brexit. It's clear from the results that advertisers are increasingly harnessing the immersive storytelling opportunities of digital video to engage people – a trend we see continued from our 2018 Adspend study released earlier in the year."
Anna Forbes, UK General Manager, The Trade Desk, said: "The continued increase in digital ad spend is testament to sterling progress within our industry. The innovations of the past 12 months alone have made it easier – and more rewarding – than ever for advertisers to shift spend to digital platforms.
"Most notable is the sizeable growth of video, which contributed well over £1 billion in the first six months of the year. Advertisers have long known that video is a powerful format to reach consumers – but, thanks to the injection of programmatic technology, the power of video as a channel has grown exponentially. What's more, this is just the beginning – the contribution of video will likely continue to skyrocket as more and more Connected TV streaming services enter the UK market. And with UK consumers creeping ever closer to subscription fee saturation, advertising will be a key asset in unlocking new revenue for many streaming companies, further boosting an already flourishing sector of UK ad spend."