Video trends: Pre-teens driving huge surge in on-demand viewing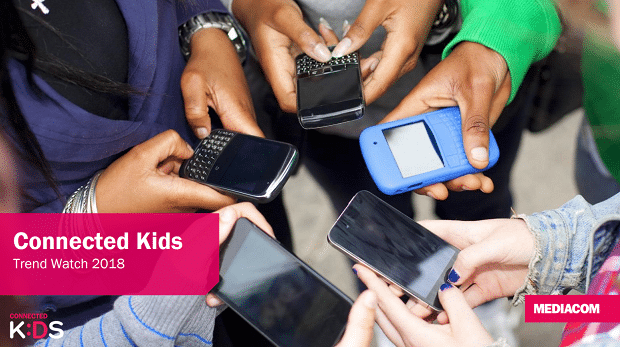 There has been a massive surge in on-demand viewing in the UK, driven by 8-12 years olds, according to new research.
MediaCom's annual trends research on the media consumption habits of British kids show that 34% of 8-12 year olds watching TV most often on-demand.
The research also shows that only 6% of kids have no access to an on-demand service.
The latter figure decreased from last year, suggesting that every single kid in the UK will use on-demand in the near future.
Amazon Prime, Sky's NowTV and Netflix are responsible for today's increasingly 'on-demand native' generation. Unsurprisingly, Netflix is dominating kids and teens' gaze as two thirds of the 1,200 children asked use it to stream content.
Key findings:
Surge in on-demand TV is driven by young children aged between 8-12, 34% of whom now watch TV most often on-demand
Two thirds (66%) of kids and teens now have access to Netflix; only 6% have no access to an on-demand service
More than a third (35%) regularly view TV or films on their smartphone
Nearly a quarter of teens (23%) have access to a smart speaker, mostly using it to request music, and over half (55%) of those use smart assistants daily
Nearly half of all teens say they currently watch on-demand TV most often (46% compared to 38% last year), yet pre-teens saw the biggest on-demand increase overall. Over a third (34%) of pre-teens now watch TV on-demand most often, compared to only 20% in 2017. The 17-19 age range also increased significantly from 58% last year to 67% this year.
Netflix remains the most used streaming service for teens, two-thirds (66%) of whom now have access to the platform compared to 53% in 2017. Meanwhile, 38% of teenagers can now access Amazon Prime Video (vs. 30% in 2017) and access to NowTV is 20%, up from 17% last year.
Only 6% of kids have no access to an on-demand service – a decrease from 10% in the last twelve months.
As on-demand viewing increases, so has TV viewing on mobile, with 35% of teens regularly watching TV or films on their phones, in comparison to 21% in 2015. This reflects the growing smartphone ownership in the UK too, as 84% of teenagers now have access to a smartphone (up from 82% last year), including 68% of 8-12-year olds.
"The way in which teens view their favourite content online is almost unrecognisable even from five years ago," said Josh Krichefski, CEO of MediaCom UK. "Today's generation are growing up as 'on-demand natives', able to access content whenever, wherever and however they want, and is essential to the popularity of shows such as Stranger Things, Jack Ryan and Game of Thrones. With the likes of NowTV and Amazon Prime Video making real in-roads in the on-demand scene and recent news of Netflix taking up 15% of all internet data, it's no surprise streaming services are ramping up their investment in content quality, quantity and accessibility."
The research also shows the accessibility of smart assistants and how this technology is becoming engrained into their daily lives; nearly a quarter (23%) of teens having access to a voice-activated device and over half (55%) of those use them daily. The majority (62%) of teens use these assistants to request music, 51% for searching for information and 42% to check the weather.
Analysis- Broadcasters need to cater for old and new habits
Kristan Bullett, Joint Managing Director at Piksel, said: "This research highlights how the viewing habits of the post-millennial audience are changing and why it's important for broadcasters to have a deep understanding of this shift. The increase in VOD viewing amongst the 8-12 year old demographic means that broadcasters not only have to prioritise the type of content they're producing, but how suitable their OTT platforms are for this audience. Effective use of data – coupled with a considered content discovery strategy for engaging this new audience – is key to ensuring the right content gets in front of the right audience at the right time, which is crucial in an age of content saturation.
"Staying relevant in the age of streaming is no easy feat and broadcasters need to directly address inefficiencies and internal bottlenecks associated with legacy systems by investing in the right technology to strengthen their proposition in the digital age.
"However, it would be short-sighted to focus solely on this demographic, as older generations continue to prefer traditional viewing options. The challenge for broadcasters will be to provide a service that is personalised, engaging and works across a variety of ages and platforms, so as to encourage new viewers whilst not alienating older audiences."
Marina Koytcheva, Vice President, Forecasting at CCS Insight, added: "While the trends of shifting consumption to on-demand and on-mobile are very much present in the adult population too, clearly kids and teens adopt new technologies much faster. This will make the life of broadcasters and content aggregators increasingly difficult in the next decade, as they will have to support multiple platforms for distribution to reach both the younger generations who are all-in with the new, and the older generations for whom old habits die hard.
"This research highlights once again the super quick adoption by kids and teens of new, intuitive and convenient technology. However, numerous studies show growing addiction to technology and especially smartphones, with young people affected the most. Promoting healthy usage of technology by kids and teens would be the responsible thing for content creators, aggregators and distributors to do."
To view the report, please click here: