Viral of the year: Oasis spoofs Heineken with cringe-worthy 'Togetherness' video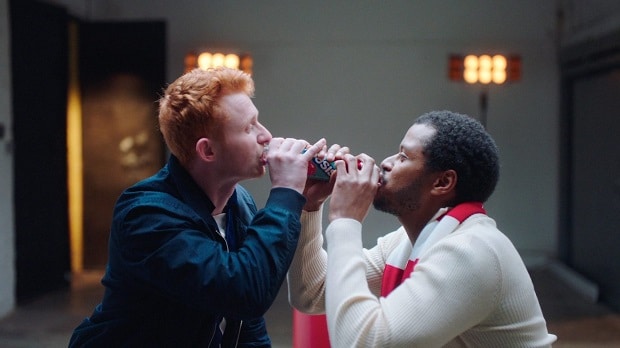 Coca-Cola-owned drinks brand Oasis created a tongue-in-cheek, parody of the world of marketing, with an ad that challenged people with opposing views to drink from the same oddly shaped bottle.
Poking fun at the latest trend for worthy, heart-warming, all-shapes-and-sizes advertising, the Oasis Togetherness ad campaign centred around an Oasis bottle with a difference. In the classic Summer Fruits flavour, it's a bottle like no other, with an eyebrow raising 'double-ended neck' encouraging people to literally drink together.
Appealing to a marketing-tired audience, the new creative from Oasis subverts the conventions of feel-good advertising as we know it, poking fun at the 'holier than thou' tone of recent brand campaigns through a refreshingly honest spin.
The Togetherness ads ran on out of home posters and online content from 4th June and in cinemas from 25th May 2018, specifically before blockbuster showings for relevance and maximum quality impact.
'Gemma Barnett, UK Stills Portfolio Manager, says: "At Oasis drinks, we know that soft drinks aren't going to save the world, so we wanted to remind people that we're not taking ourselves too seriously. Instead, we are aiming to quench thirst one delicious sip of Oasis at a time."
The self-aware spot parodies the desire of brands to align with social justice movements, with scenes reminiscent of campaigns such as Heineken's "World's Apart".
Then the film descends into slapstick tomfoolery. It was created by Matthew Lancod and Robert Amstell at The Corner and directed by Jamie Delaney through Black Dog Films.