World Cup 2018: Analytics reveals most anticipated matches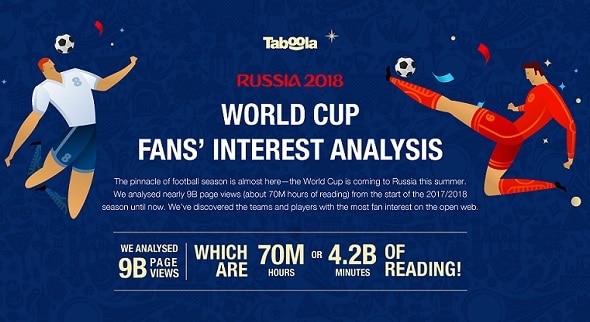 With the World Cup in Russia is set to kick off next week, new analytics reveals that Spain vs. Portugal and Sweden vs. Germany are the most anticipated matches worldwide, as the marketing battle for consumer attention begins.
Taboola has analysed nearly 9B page views (the equivalent to nearly 70M hours of reading) from the start of the 2017/2018 season until now. The findings show the teams and players with most fan interest on the open web.
Here's a few fun facts from the findings:
Readers most anticipated games are Group B – Spain vs. Portugal and Sweden vs. Germany.
If page views were equal to matches won, readers determined that Brazil (75 % of page views) dominated group E, while Mexico (41% of page views) rose to the top of Group F over Germany.
If you could build a dream team based on reader interest, there is no debate that Cristiano Ronaldo (Portugal) is the most interesting player in the world, with almost 3x the number of page views of Lionel Messi (Argentina).
The world cup winner based on page views is Argentina, with Colombia reaching the quarterfinals and Mexico making it to the semis.
If page views were equal to matches won, here's how teams would stack up by group:
Group A: Russia, Uruguay, Saudi Arabia, Egypt
Group B: Spain, Portugal, Iran, Morocco
Group C: France, Australia, Peru, Denmark
Group D: Argentina, Nigeria, Croatia, Iceland
Group E: Brazil, Switzerland, Costa Rica, Serbia
Group F: Mexico, Germany, Sweden, Korea Republic
Group G: England, Belgium, Panama, Tunisia
Group H: Japan, Colombia, Poland, Senegal
While there may be no surprise that Brazil dominates Group E with 75% of page views, Mexico has beaten Germany to top place in Group F with 41% of page views. And despite a sensational season for Mohamed Salah, Egypt would be going home early with just 8% of Group A page views.
Most anticipated matches
The most anticipated matches in every group based on page views are as follows:
Group A RUS vs EGY 185M Pageviews
19TH JUNE | 7:00 PM | ST. PETERSBURG
Group B PRT vs ESP 904M Pageviews
15TH JUNE | 7:00 GTM | SOCHI
Group C FRA vs AUS 757M Pageviews
16TH JUNE | 11:00 AM | KAZAN
Group D NGA vs ARG 747M Pageviews
26TH JUNE | 7:00 PM | ST. PETERSBURG
Group E BRA vs CHE 249M Pageviews
17TH JUNE | 7:00 PM | ROSTOV
Group F DEU vs SWE 714M Pageviews
23RD JUNE | 7:00 PM | SOCHI
Group G ENG vs BEL 2,450M Pageviews
28TH JUNE | 7:00 PM | KALININGRAD
Group H JAP vs POL 4,920M Pageviews
28TH JUNE | 3:00 PM | VOLGOGRAD