Zuckerberg vs Congress: Facebook CEO grilled on fake news and Libra currency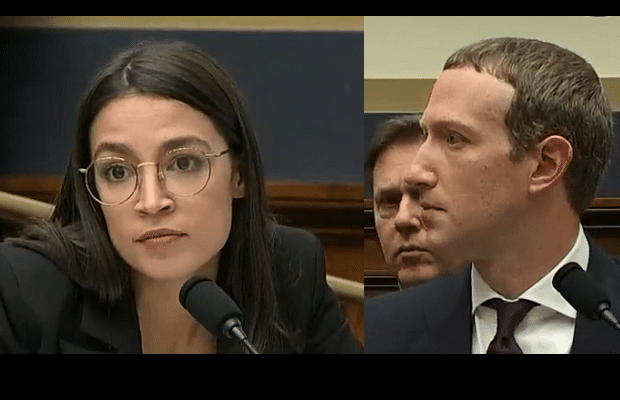 US lawmakers have criticised Facebook boss Mark Zuckerberg about the firm's policy not to fact check political ads in the upcoming 2020 US election.
Zuckerberg was appearing before the House Financial Services Committee to defend plans for his embattled digital currency Libra.
The Facebook founder was in the congressional hot seat for more than six hours as he faced questions about his company's practices, how he'll attempt to combat false and inflammatory information on Facebook's platform, and what the social media giant will do to fight election interference in the 2020 contest.
Democratic Chairwoman Maxine Waters and Representative Alexandria Ocasio-Cortez, interrogated Zuckerberg on a variety of topics related the social media platform he created.
He was unable to confirm if hate speech from candidates running for office would be taken off the platform.
But he did say it was not his job to police what politicians said.
Mark Zuckerberg admits to @RepMaxineWaters that Facebook does fact check ads, but will not fact check political ads because he thinks it's important for candidates to "inject their message into the political debate." pic.twitter.com/uLG0MWnq0j

— Andrew Kimmel (@andrewkimmel) October 23, 2019

Fact-checking political propoganda

Facebook has come under fire for its lax approach to fake news reports and disinformation campaigns, which many believe affected the outcome of the 2016 US presidential election.
Critics say the social network failed to prevent Russian interference in the election or take enough action to prevent similar happening in next year's campaign.
Maxine Waters, the Democratic chairwoman of the panel, pointed out that Facebook was the subject of an antitrust investigation.
She said it would be "beneficial for all if Facebook concentrates on addressing its many existing deficiencies and failures before proceeding any further on the Libra project".
Ocasio-Cortez, the first-term Democrat from New York, drilled down further on the matter of fact checking.
"You announced recently that the official policy of Facebook now allows politicians to pay to spread disinformation in 2020 elections and in the future. So I just want to know how far I can push this in the next year," Ocasio-Cortez said.
She asked whether she could pay to target predominantly black zip codes and advertise the wrong election date, to which Zuckerberg replied that such an ad would be barred. "If anyone, including a politician, is saying things that can cause … that is calling for violence, or could risk imminent physical harm, or voter or census suppression, when we roll out the census suppression policy, we will take that content down," he said.
"So there is some threshold where you will fact-check political advertisements. Is that what you're telling me?" Ocasio-Cortez said.
"So, you won't take down lies or you will take down lies? I think that's just a pretty simple yes or no."

Complete exchange between @RepAOC @AOC and Mark Zuckerberg at today's House Financial Services Cmte hearing.

Full video here: https://t.co/heT7Psnlp1 pic.twitter.com/0iiWtfU5gQ

— CSPAN (@cspan) October 23, 2019
But then she followed up with a different scenario: What about ads targeting Republicans in primaries saying that they had voted for the Green New Deal, which she has championed? Zuckerberg asked her to repeat the question.
Here's the exchange that followed:
Ocasio-Cortez: Would I be able to run advertisements on Facebook targeting Republicans in primaries saying that they voted for the Green New Deal? I mean, if you're not fact-checking political advertisements, I'm just trying to understand the bounds here, what's fair game.

Zuckerberg: Congresswoman, I don't know the answer to that off the top of my head, I think probably.

Ocasio-Cortez: You don't know if I'll be able to do that.

Zuckerberg: I think probably.

Ocasio-Cortez: Do you see a potential problem here with a complete lack of fact-checking on political advertisements?

Zuckerberg: Well, Congresswoman, I think lying is bad, and I think if you were to run an ad that had a lie in it, that would be bad. That's different from it being … in our position, the right thing to do to prevent your constituents or people in an election from seeing that you had lied.
She continued to press him to say whether Facebook would take down political ads containing flat-out lies. "In most cases, in a democracy, I believe that people should be able to see for themselves what politicians that they may or may not vote for are saying and judge their character for themselves," Zuckerberg said.
Libra testimony
In his first testimony before Congress since April 2018, Zuckerberg reiterated that Facebook would not be prepared to launch Libra without permission from US regulators.
"The independent Libra Association is a separate thing that exists at this point and if I feel like if Facebook can't be a part of it in keeping with the principles that I've laid out, then Facebook won't be a part of it," he said.
"We might be required to pull out if the association independently decides to move forward on something that we're not comfortable with.
"But my understanding right now is everyone is aligned on making sure that we have US regulatory approval to launch anywhere in the world and that's the goal."
The Facebook founder admitted the "risky" nature of the project and intense scrutiny was to blame for early big-name backers including Visa and Mastercard leaving the Libra Association.
The 35-year-old was also questioned about diversity, fears about child sexual exploitation over plans to roll out end-to-end encryption across all of the tech giant's platforms, political advertising and deepfakes.