Apple hits record sales despite iPhone sales dip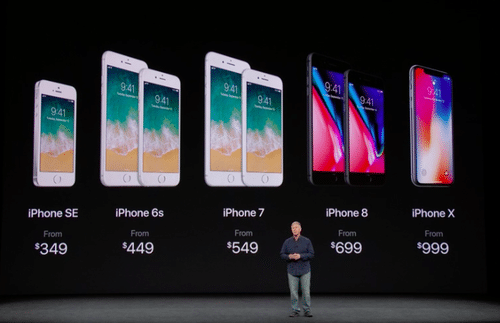 Apple enjoyed its best-ever revenues of $88.3bn (£62bn) in the last three months of 2017, despite its latest iPhone range selling nearly a million fewer handsets compared to the same period last year.
The tech giant sold 77.3 million iPhones, down by 1% on the same quarter the year before.
However, sales of the pricey flagship iPhone X helped boost the company's profits to $20bn (£14bn).
Experts have expressed doubts over the mainstream appeal of the phone (which starts at £999 in the UK and $999 in the US) and whether iPhone sales can continue to grow long term.
The company may also have lost trust among some shoppers after recently admitting a software update slowed down older iPhones to "protect electronic components".
But Apple boss Tim Cook said the X model had "surpassed our expectations and has been our top-selling iPhone every week since it shipped in November".
That may not be enough to kill off concerns among investors – especially as the company also gave a lower than expected sales and profit forecast for the first three months of 2018.
The firm says it is expecting revenues of $60bn-$62bn and gross margins of between 38% and 38.5%. Analysts were expecting $65.7bn and 38.9%.