iPhone X launch: Facial login, AI photos and augmented reality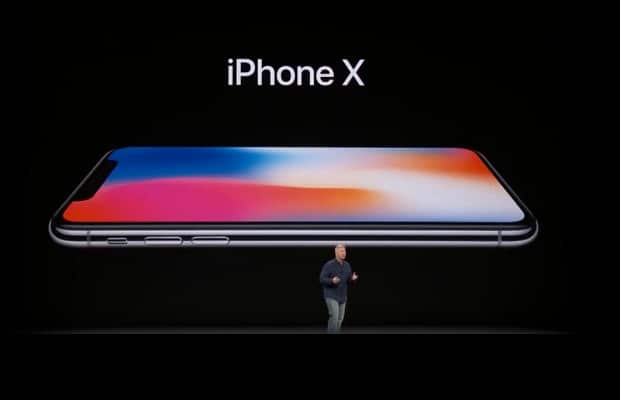 Apple has revealed its latest range of iPhones, with a raft if new features including wireless charging, an infrared camera and augmented reality, costing £999 when it is made available on 3 November.
The iPhone X, pronounced 10, has no physical home button, and will include facial recognition software which replaces the fingerprint sensor used to unlock the phone.
The Face ID technology can also be used to create Snapchat Lens-style Animoji – animated emoji controlled by the user's face.
The iPhone X won't come cheap. Apple will release two versions, a 64GB version, which will start at £999, and a more expensive 256GB version for £1,149 – ushering in the era of the £1,000 smartphone.
As well as the iPhone X, Apple also announced the new iPhone 8 and iPhone Plus 8, which will cost £699 and £799 respectively and will go on sale ahead of the iPhone X on 22 September.
The iPhone X will not ship until later this year. The iPhone X will be available for pre-orders on October 27 and be released generally on November 3.
Key features: iPhone X
Edge-to-edge display screens that cover the whole front of the phone
No home button
Face ID unlocks the phone using 3D facial recognition software. Works with Apple Pay.
New Portrait Lighting feature Machine learning creates facial landmarks and enhances light effects on the face
iOS 11 will feature, among other things, peer-to-peer Apple Pay and a redesigned Control Centre
Wireless charging already in use for the Apple Watch and will now be integrated into iPhones
5.8″ 'Super Retina' display Supports HDR in Dolby Vision and HDR10 and True Tone
64GB and 256GB Costs from £999 for 64GB version and £1,149 for 256GB. Available for pre-order from October 27 and ships from November 3
Announcing the iPhone X at the company's new Steve Jobs Theatre in California, Apple chief executive Tim Cook described the model as "the biggest leap forward since the original iPhone".
However, the launch did not go fully to plan as Apple vice president Craig Federighi initially failed to unlock the device using Face ID.
Both will feature wireless charging capabilities, while the 8 Plus will include new camera technology called portrait lighting.
The software uses artificial intelligence to automatically improve the lighting effects of portrait photographs.
Both models are dust and water resistant, and feature 12-megapixel rear cameras.
Augmented reality
The iPhone X has been used to showcase some of the augmented reality experiences that Apple debuted with its ARKit software, released at this year's WWDC. Augmented reality allows iPhone users to superimpose virtual images, games and videos onto real world objects and is a field where Apple has truly taken the initiative from rivals such as Google.
The X can also use 3D tracking capabilities from its selfie camera to impose masks using AR for apps such as Snapchat.
Animoji
Animoji are a new form of moving emoji that can be customised using facial recognition software. Users can scan their face and the animoji will match their expression in a short animation.
The feature will only be available on the premium iPhone X, as it requires the 3D camera. Apple has created a limited selection of animoji from its hundreds of emoji, including the monkey, unicorn, robot, dog, pig, cat, dog and pile of poo.
Processor and battery
Inside the iPhone X will be an A11 bionic chip, a more powerful chip than the one found on the iPhone 8 and iPhone 8 Plus. The iPhone X will also provide two more hours of battery life than the iPhone 7, according to Apple.
Loizos Heracleous, of Warwick Business School, is a Professor of Strategy who has researched Apple and its quantum strategy, commented on the launch.
Heracleous said: "Apple's introduction of a $1,000 iPhone is consistent with its business strategy of differentiation and exclusivity, targeting the higher end of the market rather than just aiming for a larger base of users. Given that the iPhone accounts for the majority of the company's revenues and profits and its demand curve is relatively inelastic – ie a price change has less affect on sales – this pricing strategy makes sense in terms of revenue and profit growth.
"This move is also consistent with Apple's image in important emerging economies as an exclusive handset and as the real thing, despite the availabiligy of much cheaper imitations. While it may constrain rapid expansion of users, it strengthens the brand's image and desirability as the mobile most people will buy when they are able to.
"Apart from removing the home button enabled by a new type of screen on the highest end model, Apple is also continuing to focus on its intense levels of efficiency in production and more broadly at the operational level, by using a largely consistent design, operating system and functions across its different iPhone models.
"People have been predicting Apple's demise for a while, but Apple's performance has been growing stronger since Steve Jobs' untimely departure. This pricing move is an example of the essence of strategy: being able to make tough choices that are meaningful for company performance.
"No move is risk-free, but as things stand, this seems like a courageous move that should turn out positively for the company in terms of performance, and create some distance from compeing brands in terms of exclusivity."
Apple Watch 3 and updated TV
Away from smartphones, Apple also announced the Apple Watch Series 3, which includes its own mobile signal.
The new feature will enable users to make calls, send messages and stream music without being connected to a smartphone.
An enhanced version of the Apple TV which supports 4K resolution and high dynamic range (HDR) was also revealed.
The Watch and TV will go on sale on 22 September, alongside the iPhone 8 and 8 Plus.
Watch the full presentation below: