LinkedIn partners Spotify to reveal what the UK listens to at work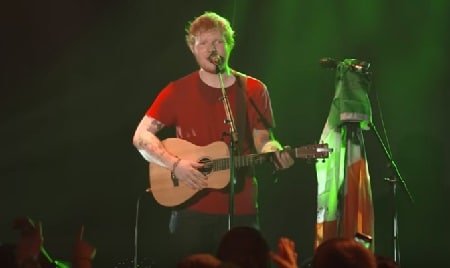 Ed Sheeran was the most acceptable artist to play in the workplace, with Eminem least suitable according to new research from LinkedIn and Spotify.
LinkedIn's partnership with Spotify is designed to lift the lid on music in the workplace, a factor which has a huge impact on a person's own professional brand.
Key findings of the report:
Ed Sheeran voted "most appropriate popular artist to play at work", with Eminem the least suitable
Music makes the work go round: Three quarters (73 per cent) of UK workers think listening to music at work makes them more productive
The sound of industry: sales workers most likely to select country (15 per cent) music for the workplace while recruiters are most likely to select metal (15 per cent)
LinkedIn has partnered with Spotify to release the "Ultimate Office Playlist" and bring harmony to workplaces
Ed Sheeran was been voted "Desktop of the Pops"; the most acceptable artist to play in the workplace (42 per cent), beating Coldplay (28 per cent) and Bruno Mars (19 per cent) to the top spot.
The study shows many workers think listening to music at work helps make them be better at their jobs.
Almost three quarters of workers (73 per cent) think music makes them more productive, while the two thirds (67 per cent) of professionals who listen to music at work argue it keeps them motivated (61 per cent), helps them to keep calm (41 per cent) and helps them be more creative (34 per cent).
And it has other benefits too – 17 per cent of workers admit to playing music to drown out the sound of their fellow colleagues.
Darain Faraz, LinkedIn's Careers Expert, comments, "We've partnered with Spotify to find out what the UK really thinks about music being played at work. Ultimately, how we behave in the workplace plays a huge role in developing our professional brand so it's important to remember what you want to communicate about yourself to others, whether that's online or offline. Listening to music can have positive effects on productivity, creativity and motivation levels – just make sure you've been considerate and consulted your colleagues before blasting Eminem on a Monday morning!"
The study also found that music tastes can be divisive and potentially harmful to an employee's professional brand if polarised opinions aren't carefully navigated. One in 10 professionals (10 per cent) admit to judging their colleagues by their taste in music choice or music genre, and while roughly the same percentage (11 per cent) of workers proclaim to be "the office DJ", regularly selecting the music for others, 17 per cent believe it's rude to impose music choices on others without checking first. And while a quarter (27 per cent) try to be considerate in their music selection, eight per cent are reluctant to ask their fellow colleagues to turn their music off or down – even if it's bothering them.
Most likely to cause a workplace tempo tantrum is rapper Eminem, who was voted the least acceptable artist to have on at work (29 per cent). While rap music is a particularly unpopular choice for the office airwaves, with Kanye West (23 per cent), Drake and Skepta (both 12 per cent) also in the top five, it's pop heartthrob Justin Bieber who is the third placed 'least acceptable' artist to play at work (14 per cent).
Pop music is employees' workplace go-to, with more than half of workers (55 per cent) selecting it as their genre of choice, but there are some surprising tastes across different industries in the UK. LinkedIn data identified the sales industry as most likely to select country music (15 per cent) as the most acceptable music genre for the workplace while recruitment workers are most likely to select metal (15 per cent). Elsewhere, reggae strikes a chord with 19 per cent of marketing professionals.
To bring harmony to the workplace, LinkedIn has teamed up with Dr. Hauke Egermann, a music psychologist, to offer the following advice:
Consider music as part of your professional brand

Just as music plays a role in forming people's social identity, it contributes to employees' professional brands too. It has the power to build or damage a professional reputation and, as this project shows, colleagues might judge others on their choice in the workplace. Consider how you want to portray yourself professionally and make sure your music tastes, and attitudes towards others, reflects it

Check your workplace's music policy

Before putting your favourite playlist on loudspeaker talk to your line manager to find out if there is an official company policy on listening to music. Some encourage music to enhance the working environment while for others it's a strict no go. While headphones are generally favoured, some workplaces ban them as its considered anti-social

Learn what helps you focus

Listening to music is a great way to achieve the optimal working environment, however, it's important to match the music with the task at hand. Listening to songs with lyrics while writing can be distracting but instrumental music can help you to mask a noisy environment and improve focus and concentration. When working on something complicated, look for music to keep you calm. And while working on repetitive tasks, stimulating music could motivate you to finish it faster

Be considerate of your colleagues

Music in the workplace is divisive: some love it, some hate it. Be mindful that everyone has different opinions on songs, genres and artists and some prefer silence. Talk to your colleagues and check that they are happy for it to be played, and that they agree with your selections. After all, 17 per cent of workers think it's rude to impose music choices on others without checking first
For those looking to hit the right note in the workplace, LinkedIn and Spotify have unveiled the Ultimate Office Playlist; 50 work-appropriate songs curated from thousands of the UK's top office playlists.
Find out more and join in the conversation on social using #musicatwork.
The most acceptable artists to play in the workplace:
| | |
| --- | --- |
| 1 | Ed Sheeran (42 per cent) |
| 2 | Coldplay (28 per cent) |
| 3 | Bruno Mars (19 per cent) |
| 4 | Rihanna (15 per cent) |
| 5 | Taylor Swift (14 per cent) |
 
The least acceptable artists to play in the workplace:
| | |
| --- | --- |
| 1 | Eminem (29 per cent) |
| 2 | Kanye West (23 per cent) |
| 3 | Justin Bieber (14 per cent |
| 4 | Drake (12 per cent) |
| 5 | Skepta (12 per cent) |
About the research
Censuswide surveyed 2,027 UK adults who are employed between 16th and 22nd August 2017 using data from Spotify to obtain the most popular artists in the UK in 2017.