Mastercard and Garmin lets people pay via fitness watches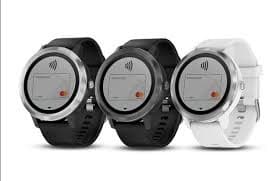 Mastercard is adding payment capabilities to the newly launched Garmin vívoactive 3, letting people pay for goods while out keeping fit without provide having to carry their phone or wallet around.
The contactless payments system works by letting user tap their device at a contactless terminal at nearly 6.6 million merchant locations globally.
How It Works:
Garmin users will enter payment information in the Garmin Connect™ Mobile app (available in Apple and Android app stores) by scanning a card or manually entering their information.
Once the cardholders details are validated and app has synced with the smartwatch, the card is available for use.
The user can quickly launch their wallet from the controls menu and tap at a contactless terminal whenever they wish to make a payment.


"Technology is enabling fitness companies to provide athletes with the most comprehensive performance trackers we have seen in our time," said Kiki Del Valle, senior vice president, Commerce for Every Device, Mastercard. "Adding payment capability to these devices is a natural next step to make training and fitness experiences more relevant, personal, and convenient."
"We want to be true training partners and support the active lifestyles of our users," said Dan Bartel, Garmin vice president of worldwide sales. "With Mastercard technology, our users no longer need to be tethered to their physical wallets and can pay for things in a safe, simple, and secure way. This partnership enables us to empower our consumers to use the device that is most convenient to them, with a high level of security."