Mobile ad trends: Ad fraud tops transparency concerns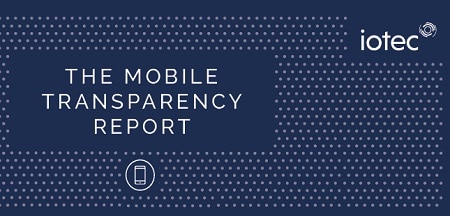 Just under half (49.6%) of marketers put ad fraud as their top concern within mobile programmatic, according to new research.
The study, from media buying platform, iotec, looks at some of the rising concerns within mobile programmatic advertising through their latest findings, highlighted in their recently fielded research, The Mobile Transparency Report.
In 2016, mobile activity accounted for over 50% of the UK's digital advertising, amounting to £3.86 billion. According to eMarketer, it's anticipated that by 2019 mobile media time (29.6%) will surpass TV activity (30.4%).
Within the leap to mobile it has become readily apparent that both advertisers and media vendors will need to think critically about the issues plaguing the ecosystem; the current debate revolving around ad fraud, transparency and brand safety is no exception. Indeed the past few months have seen many citing ad fraud as a source of consternation for everyone involved in digital advertising.
In order to delve deep into some of the growing concerns of mobile marketers, iotec conducted a survey of 500 UK-based marketers to get to the root of the industry's issues and better understand the challenges and opportunities of mobile programmatic.
The survey uncovered that 49.6% of marketers view ad fraud as the leading concern within programmatic advertising. When asked about ad fraud specifically, 50% were "very concerned" and 41% were "somewhat concerned," making up 91% of those surveyed. The survey also found that 28.7% of respondents also stated "ad viewability" was their main concern, tying into the recent news surrounding domain spoofing and misplaced ad inventory.
Some key findings of the survey include:
Marketers' growing list of mobile worries topped by ad fraud: Advertisers felt that the top three transparency concerns within the industry include: (i) fraud (32.8%); (ii) viewability (28.7%); (iii) targeting (22%).
Ad fraud is the leading concern in programmatic advertising on mobile: 49.6% of respondents surveyed view ad fraud as the leading issue within mobile programmatic advertising, while 41% were somewhat concerned.
Greater complexity in mobile advertising: Of those surveyed, a third find dealing with mobile programmatic just as confusing as on desktop, while 41% found it to be more complicated on mobile.
Transparency top deciding factor driving adtech vendor selection: When asked what the main reason would be for changing adtech providers, a lack of transparent practices signaled an intent to switch, pointing to questions over pricing, media placement, use of data and optimisation.
Paul Wright, CEO of iotec, says: "Ad fraud continues to dominate the conversation surrounding digital advertising as we head into 2018, and I don't expect it to quieten down. We are committed to dealing with this issue in a robust fashion as any responsible adtech company should do."
"As part of this commitment to tackling fraud in digital advertising, iotec have already supported all actions aligned to the "IAB Gold Standard" announced last month including the implementation of ads.txt, adhering to LEAN principles and holders of JICWEBS seals for both brand safety and anti fraud, which we were awarded in August 2017."
"Beyond this, we have developed a unique product in iotec Shield which safeguards against harmful and fraudulent inventory in real-time, using our machine learning to ensure in-App and Mobile browser impressions are bought on quality content only."
To read more of the findings, or to download the report, click here.