Privacy trends: People 'less likely to protect their phones than computers'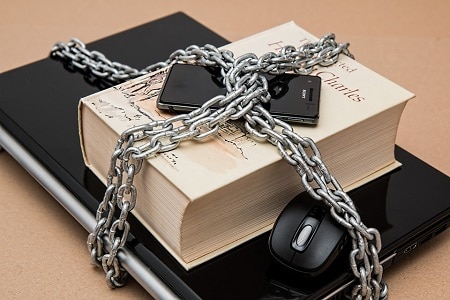 Identity thefts, celebrity photo leaks, and other data breaches happen because of disproportionate trust in smartphone security, according to new research.
Most of today's laptops have inbuilt security solutions, such as a firewall, but it is not the case with smartphones. Although there are a good few of privacy and security protection apps to download from the internet, one out of four smartphone owners does not even use a screen lock feature, as revealed by a Pew Research Center report.
Increasing vulnerability of mobile devices is illustrated by the rapid growth of phishing and malware attacks. Last year alone, the number of mobile phishing attacks increased by 85%, while there was a 54 percent upsurge in the malware variants.
"Criminals target smartphones because they are much less protected. In many cases, there is more valuable information in our smartphones than on laptops. Such information includes photos, contacts, and passwords, and it is easily exploitable" says Naomi Hodges, Cybersecurity Advisor at Surfshark.
Various surveys reveal that although most people use antivirus or similar software on their laptops, they do not have any in their smartphones. For instance, 9 in 10 computer owners in the Netherlands indicate that they have some sort of security software on their laptops. However, only about 1 in 2 respondents claimed the same about their phones.
Celebrities are just like us
"Celebrity photo leaks happen so often because people trust their phones with the most personal information but fail to protect it until it is too late," explains Naomi Hodges. "Celebrities are simply targeted more often because hackers expect to get more value from their information."
She adds that having specialized security software installed in a smartphone is still not enough. There are more critically important safety procedures that tend to be overlooked. The survey by the Pew Research Center concluded that more than 40% of smartphone owners do not rush to update their software, while many of them have not changed factory PIN codes at all.
Mobile technology will dominate the future
The same survey revealed that that 20% of internet users use public Wi-Fi networks to perform sensitive activities such as online shopping and online banking.
"The upsurge of mobile payment technologies and e-commerce comes with a great threat to cybersecurity. Sensitive information which is sent online is usually not encrypted by people's devices, thus anyone with a minor set of IT skills can see it floating in the public Wi-Fi network. However, there are ways to prevent it by using, for instance, a virtual private network software," says Naomi Hodges.
Virtual private network (VPN) software encrypts all the data sent from any device which has it enabled. It also protects the user's identity by masking its IP address and changing location. As an additional feature, premium VPNs have inbuilt malware blocking systems which also allow users to block ads and trackers.
Source: Surfshark