Sticky disc makes regular watches smart
The Chronos pad- a gadget that promises to turn almost any regular watch into a smartwatch- is being developed in the US. The sticky disc can light up and vibrate when a user's smartphone receives new messages or calls. It's just 33mm across and 2.5mm thick and weighs next to nothing. It's waterproof, and a […]
The Chronos pad- a gadget that promises to turn almost any regular watch into a smartwatch- is being developed in the US.
The sticky disc can light up and vibrate when a user's smartphone receives new messages or calls.
It's just 33mm across and 2.5mm thick and weighs next to nothing. It's waterproof, and a micro-suction surface on the back lets it adhere to the underneath of a watch, situating it between the mechanism and the user's wrist.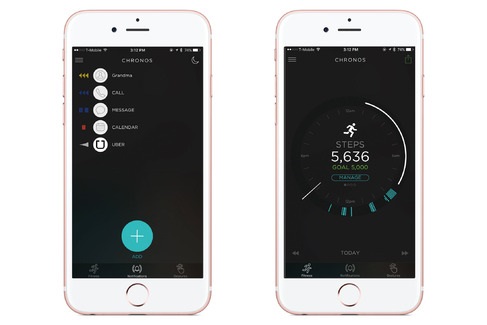 Inside the Chronos is an array of sensors, a few LEDs, a vibration engine, and a battery. However the device does not have a screen or voice control as found on most fully-featured devices.
Currently Chronos can make eight different vibration patterns and six different colours. It comes with a charging pad and should get about 36 hours of juice on a three-hour charge.
It is expected to cost $99 (£66) when it goes on sale in 2016, making it less expensive than an integrated smartwatch.