Uber 'clean air plan': All London cars to be electric or hybrid by 2019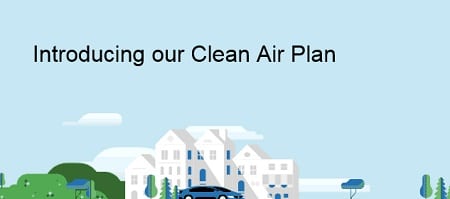 Uber UK has launched its Clean Air Plan, which sees the ride sharing company take several actions to reduce the ecological impact of its service, as well as motoring in general.
By the end of 2019, all cars available on uberX in London will be hybrid or fully electric. Diesel cars will no longer be available on the app.
The company then plans to extend the scheme around the country.
By 2025, it wants its London fleet to be fully electric. Uber has created a Clean Air Fund – a ringfenced fund that'll provide grants of up to £5,000 to drivers aiming to upgrade their vehicles. The company estimates that over the life of the fund, it'll pay out in excess of £150 million.
It has also launched a diesel scrappage scheme, which sees the company offer £1,500 in free rides to members of the public who take their polluting diesel cars off the road.
Fred Jones, Uber's Head of UK Cities, said: "Air pollution is a growing problem and we're determined to play our part in tackling it with this bold plan. Our scrappage scheme will also take polluting vehicles off the road and encourage Londoners to get into a shared car to connect with public transport instead."
The first 1,000 Londoners that scrap their pre-Euro 4 diesel cars (essentially, every diesel-powered vehicle manufactured before January 2005) will be eligible for the reward, which can be redeemed for UberPOOL and UberX rides. Those wishing to register their interest can do so here.
The company has set the same goal for its other UK cities – like Liverpool, Glasgow, Manchester, and Birmingham – for 2022.
Uber has seeded the fund with £2 million of funds. The rest will come directly from passengers, with 35p added to each ride taken in London.
To support its upcoming burgeoning fleet of electric and hybrid vehicles, the company has installed a network of Uber-branded rapid chargers in Central London. These will be available exclusively to Uber partners.