Vodafone used its super-fast 5G to make two pianos play a duet in real-time in different locations.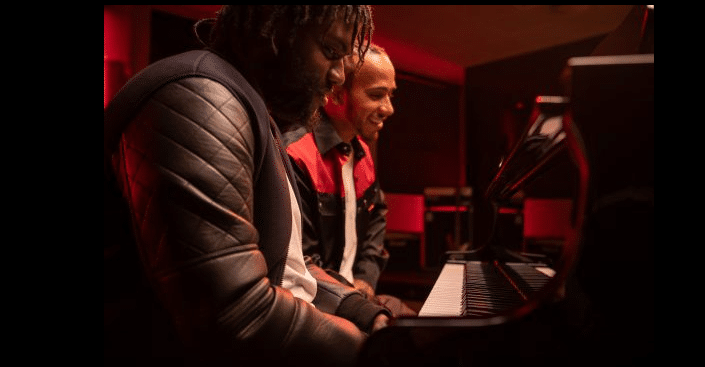 Accomplished piano player and Six-Time Formula 1 World Champion, Lewis Hamilton, is the first to test new technology that lets him play simultaneously with renowned musician, Jay Keys.
For the one-off performance, two pianos in different locations in London were connected, allowing Lewis to show off his piano playing skills live with musicians and producer Jay Keys.
The low latency speeds of 5G made it possible for Lewis and Jay to sync the music together with no lag, as if they were together in one place at the same time.
Specially developed technology meant Vodafone could send data relating to the touch and pressure on Jay's piano keys to Lewis's instrument, using magnets in the keys and pedals. This resulted in the keys and pedals of Lewis's piano moving simultaneously with the one Jay was playing, creating one synchronized instrument.
Vodafone 5G ambassador Lewis commented, "I've always loved music and was drawn to the piano from a very young age, however it's challenging to find time to practice with my career. I was blown away by how 5G can allow me to keep learning in such an interactive way – especially when I am on the road or in another country."
For me, music is all about connecting with people and seeing the piano keys move without touching them, as Jay played from somewhere else, was amazing. The immediacy and possibility to learn in real-time when you are thousands of miles apart is a game-changer, and inspires me to continue practicing and playing this beautiful instrument."
Talented musician and producer Jay Keys, known for his work with Liam Payne, Stormzy, J Hus and Naughty Boy said, "Technology like this is going to be game changing for the music industry. It opens up more opportunities for musicians globally to collaborate in real-time. Imagine 5G powered writing/production sessions, music lessons and duets happening between musicians everywhere. It will give us the opportunity to be more productive/creative and connect with each other regardless of where we are in the world."
Nick Jeffery, CEO, Vodafone UK said: "Music has a way of bringing people together and for the first time, using our 5G network, we have been able to demonstrate how two separate pianos and musicians in different locations can play together as one. The past few months especially have highlighted how important 5G technology will be in bringing more people, places and things closer to what they love – even when they have to be apart."
The world's first 5G piano duet is the third short film in Vodafone's #5Gamechanger campaign. Earlier this year the brand invited ambassador Lewis to try his hand at flying drones alongside some of the UK's top drone racing stars, and sample the latest in mixed-reality gaming.
Watch Lewis and Jay perform together in the world's first 5G piano duet here. Note content was filmed prior to the pandemic and before the enforcing of social distancing rules.