Retail revolution? Top brands to sell directly to consumers via INS digital scheme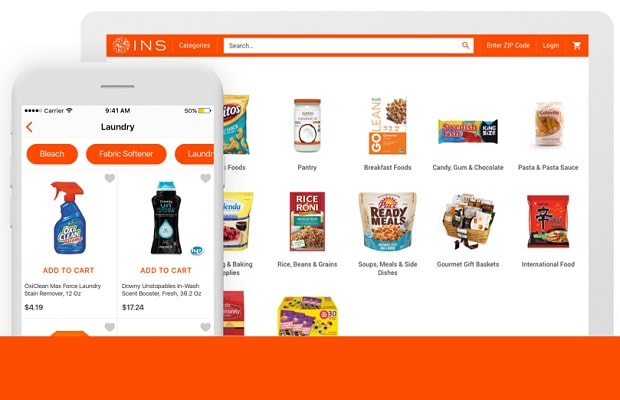 Britain's biggest food and household goods brands have signed up to a new shopping service which claims it can slash grocery bills by 30% by cutting out supermarkets.
The grocery service, designed by tech company INS, is set to pilot in 2018 and is expected to be part of a new wave of shopping firms offering a radically different way for consumers to shop.
Manufacturing giants Unilever and Mars have signed agreements to say they intend to start selling items directly to consumers through a high-tech digital platform which is launching in the UK next year.
It means hundreds of household favourites including Weetabix, Walls ice cream, Dettol, Durex condoms and Dolmio sauces could soon be available to buy at much lower prices.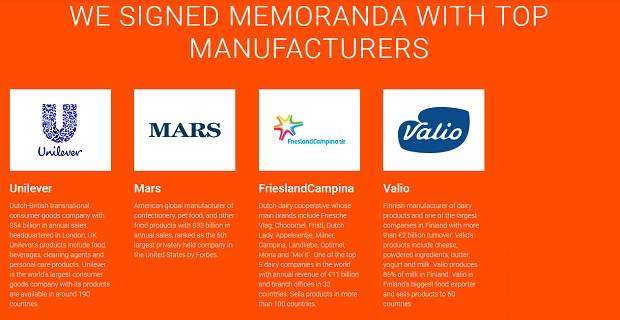 How INS works
Unlike supermarkets, which negotiate prices of goods with manufacturers, the INS website will let brands decide their own prices.
INS is a global project by the founders of Instamart grocery delivery service. The initiative will build a decentralised grocery shopping ecosystem based on blockchain technology.
A blockchain is a continuously growing list of records, called blocks, which are linked and secured using cryptography. Once recorded, the data in any given block cannot be altered retroactively without the alteration of all subsequent blocks, which needs a collusion of the network majority. Originally devised for the digital currency, Bitcoin, the tech community is now finding other potential uses for the technology.
INS builds a scalable blockchain-based platform enabling consumers to buy groceries directly from manufacturers.
Online decentralised platform powered by a self-regulated community of shoppers and suppliers eliminates the retailers from the purchase process.
Smart contracts help both parts to facilitate trade and reduce risks and costs. Any manufacturer can list and sell products, gain customer feedback, and reward loyal shoppers.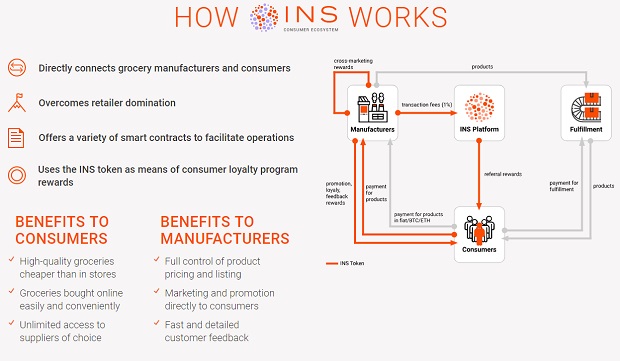 INS is disrupting the largest consumer retail market in the world. According to Persistent Market Research, the global grocery market will grow to $8.5tn in 2020. Online sales of groceries are expected to reach over $300bn by 2020.
Peter Fedchenkov, INS co-founder and CEO, said: "The grocery industry in its current shape is inefficient and controlled by retailers. For example, in the UK, there are over 7,000 manufacturers and 25 million households dependent on 4 key grocery retailers controlling 76% of the market. INS will adopt blockchain to cut the middleman – wholesalers and retail stores – to help consumers save up to 30% on grocery shopping."
The first memoranda of understanding is signed with Unilever – one of the world's leaders in FMCG. In addition to savings for customers, INS will put manufacturers in full control of product pricing and listing.
Analysis: rethinking the supply chain
Heather Barson, Director of Retail and Hospitality at Fujitsu UK & Ireland, responded to the news: "We've seen emerging technology reshape the way we shop, with retailers implementing new solutions and platforms, but this latest announcement has the innovative potential to open up a new era in retailing, overhauling the way we understand and experience it today.
"If this new shopping service can truly slash grocery bills by 30%, cutting out supermarkets completely, retailers might have to rethink their entire business model, and how they fit within the supply chain altogether.
"Of course this should not be seen as an apocalyptic prediction, but rather as a challenge to be overcome. Indeed price is an important battleground, but consumers nowadays are looking beyond that: they are looking for convenience, personalisation, and ease to use, and in some instances they're even willing to pay extra for these.
"Be it this new platform or another disruptive solution that the industry will come to face, it is imperative retailers ensure they are moving forward and adapting their offerings to match the ever-changing behaviours of consumers. By making the most of the technology available today, retailers and manufacturers equally can better themselves at meeting consumer needs and even anticipating those."
Impact on customer data and loyalty
Rob Meakin, Managing Director at Loyalty Pro, commented the implication for loyalty schemes and consumer data: "The move by brands to offer a more convenient, cheaper service to consumers and cut out supermarkets is a clear attempt to gain some of the market share – and power – of grocery leaders like Tesco and Sainsbury's and now Amazon, of course. In being able to gather data from their customers more easily, brands are going to create recommendations, rewards and loyalty schemes based on consumer buying patterns. With consumers' allegiance shifting more away from brands and towards service (same-day and even same-hour delivery), this is an opportunity for brands to reclaim customer loyalty and our advice to retailers is to watch this development very closely and make sure they are prepared to fight for their consumer.
"As data becomes the fuel for any business, retailers need to be actively trying to grow their customer loyalty by utilising the customer data at their fingertips to offer rewards schemes in the same way brands are now likely to. Loyalty points and rewards are a currency themselves, and with household budgets squeezed, consumers will be looking for the best possible deal. They also want to feel valued wherever they shop, rewarded for their custom and loyalty through points, offers and even charitable donations. We live in a society where loyalty can appear dead, but the truth is that it's simply changed. Consumers still value great service and that can absolutely be delivered by anyone – from a single store high street retailer to a multinational online service. The key is to use data to understand what they want and deliver an experience using personalised and relevant communications which will encourage customer loyalty. With brands about to cut out the middle-man, no retailer can afford to rest on their laurels."
View a video presentation explaining how the INS system works here: