Cannes Lions winners: Xbox lets fans sell own customised controller designs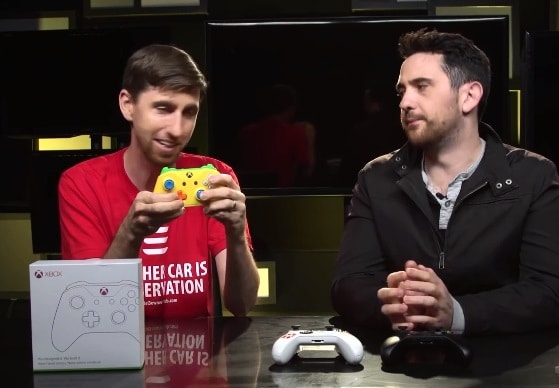 The Cannes Lions jury awarded the top 'Creative Commerce' prize to Microsoft XBox Design Lab's "The Fanchise Model" campaign, created out of McCann London.
The challenge for this effort was to get more consumers to buy customized Xbox controllers. The problem was that the customized versions were far more expensive than ones bought straight off the shelf.
To incentivize gamers, Microsoft allowed them to reap profits when other consumers purchased their original designs, which included a Minions theme and Trump themes.
The latter included a patriotic, red, white and blue-themed design from a consumer creator who called him a "smart, straight-talker" and another, of a different hue, from a designer who said of the the POTUS, "He looks like a Cheeto." Those original designs then went on to feature in other elements of the campaign.
Back in 2016, Xbox launched Design Lab, an e-commerce store for customising controllers. However, in 2017, they approached us with a problem: Design Lab's customisable controllers are relatively expensive, retailing at 50% more than standard controllers, which was proving to be a barrier to purchase. With concerns within the gaming community around the high cost of gaming, how could Xbox take cost out of the equation, in order to increase sales of Design Lab controllers?
At a time when gamers were concerned about the cost of gaming, Xbox had to convince them to buy controllers that cost 50% more than normal ones. Furthermore, Xbox was not the first brand to allow its audience to customize a product, so that alone was not enough to overcome the price barrier. Hence, our strategy was to tap into the sense of pride that gamers felt when designing their controller, and intercept them at that touchpoint. If we were asking them to essentially design our product, then the relationship should be reciprocal. So our approach was to treat our audience as professional designers, giving them ownership over, and the ability to earn from, their controller design. This new approach of giving them a vested interest served as a compelling incentive to interact more with the customization tool, create more controllers and sell them to their networks.
On the website, people could customize their controller, then claim ownership of it. If others buy that design, the designer would earn money. Every designer received artwork, enabling them to market their controller on social channels and forums. Xbox supported gamers using owned and paid media (including OOH, TV, in-store, dashboard, print and banners) to promote people's controllers with bespoke ads. The new model empowered the global gaming community to think strategically. They claimed controllers inspired by things with fan bases, like Manchester United, Trump, and the Minions. The campaign initially began with Influencer social activity, starting from 1 April 2017, with the 'claim your design' feature released online on 1 May 2017, simultaneously with call-to-action online display ads and a feature on the Xbox dashboard. Retail support then kicked in on 30 May 2017, and print ads began appearing in the July and August 2017 editions of trade magazines.
Outcome
Design Lab controller sales increased by 350%
41% of site visitors claimed a design
Average amount earned was $95.24
The top earner made $1,131
Microsoft reimagined the shopping journey, letting gamers claim ownership of their design. With a vested interest, gamers started behaving more like entrepreneurs than consumers, essentially selling the product for Microsoft.
They spotted gaps in the market, claiming designs that would sell within their communities. Sports teams, flags, current events, even charitable causes … if it had a fanbase, someone owned a design around it. Gamers promoted their controllers on their social channels, while Xbox made bespoke ads to promote people's designs in-store, OOH, online, on the Xbox dash, on TV and in print. It created a positive feedback loop, all leading to more site visits, more designs, more sales. By rethinking the brand's core touchpoint and letting customers profit from what they designed, in the end everybody profited.
"What I loved about this is it's like a Mobius strip and you're not sure where it begins and ends, because everyone is getting what they want," said one Cannes judge. "It was very elegant, flawless. There were other Grand Prix contenders, "but nothing was quite as perfect."