Lidl creates an 'Emojinal' Christmas game with Brian Blessed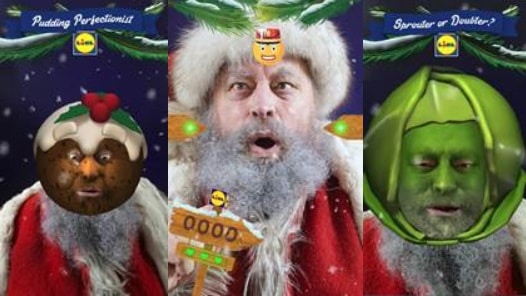 Lidl UK is the first supermarket to launch a game played through the Facebook Camera app in the UK.
The 'Emojional Rollercoaster' game is available from today until 31st December on the Facebook Camera app.
To support the launch of the game, the brand has partnered with national treasure Brian Blessed who stars in supporting social video content and voiceovers.
Alongside the game, Lidl has launched four festive filters also available on the Facebook Camera app, coined 'Xmojis'. Drawing on the 'tribes' that feature in Lidl's Christmas adverts, the filters are based on modern, eclectic and relatable characters that are true to humorous British behaviours during the Christmas season.
Using AR technology, users can transform themselves into a 'Sprouter or Doubter' (a Brussels sprout), a 'Pudding Perfectionist' (a Christmas pudding), a 'Cavalier Carver' (a turkey) or Brian Blessed's personal favourite, a 'Mince Pie Maverick' (a mince pie).
To launch the game, Lidl has partnered with national treasure, actor Brian Blessed, who stars in supporting social video content and voiceovers.
Developed by Lidl's in-house social media team and digital marketing agency 360i, the launch sees Lidl utilise augmented reality (AR) for the first time, putting the user directly in the game and challenging them to make the same expression as the emojis appearing on screen. The game can be played as a single player or co-operatively with a friend; points are scored if the correct expression is achieved.
Brian Blessed steps into this festive role naturally, providing animated voiceover instructions in a 'How To' video that will be hosted on the Lidl UK Facebook page from Monday. Viewers will be seamlessly directed to Lidl's game and filters via a link within the 'How To' video.
In his trademark booming voice and Hollywood style entertainment, Blessed proves that the 'Emojional Rollercoaster' is simple enough to be played by anyone on Facebook. Available from 11th to 31st December, everyone in the family can get involved in the game on Christmas Day… it's sure to convert even the most resistant technophobes!
"Lidl's Christmas social media project is sensational for spreading the festive spirit", commented Blessed who hopes that "we'll all appreciate Lidl bringing us a bit of cheer in this way."
Georgina Hall, Head of Communications and CSR at Lidl UK said: "Being brave in all our communications is always a priority for us at Lidl. The fact that we are the first supermarket in the UK to use the Facebook Camera app for the purposes of a game shows the steps we're taking in innovation. The Emojional Rollercoaster game alongside the festive filters are new and exciting ways to provide some light-hearted, engaging entertainment for our customers over the Christmas period."
Melissa Ditson, Executive Creative Director at 360i Europe commented: "We're excited to be pushing new technologies with a progressive client partner like Lidl. Using augmented reality brings the brand right to people's dinner tables at Christmas, and for the public, turning a family member into a Christmas pudding should provide some extra festive cheer!"
Lidl's Emojional Rollercoaster game and festive filters will be available for free on the Facebook Camera app from 9am 11th December until 31st December.