The year in review: 17 biggest digital trends of 2017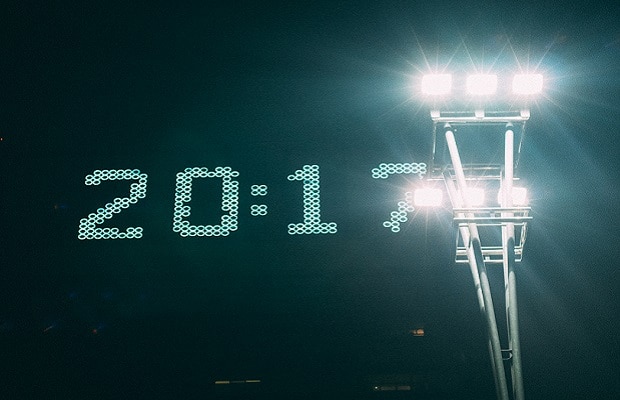 2017 was another big year for digital marketing, with the rise of Blockchain, voice search going mainstream and AI getting (scarily) smarter. This was the year that Facebook went VR, Android overtook Windows and a virtual cat craze nearly broke a cryptocurrency market. In this special report, we've identified 17 of the biggest trends of the year.
Blockchain: Bitcoin just the tip of the iceberg for transaction tech
The year 2017 has been about innovation and disruption in tech, and few other new technologies have had as much impact as blockchain and the rise of cryptocurrencies. From the soaring valuations of Bitcoin to the ever-increasing and diverse applications of the blockchain, cryptocurrencies and other blockchain technologies have dominated headlines this year.

A blockchain is a continuously growing list of records, called blocks, which are linked and secured using cryptography. Once recorded, the data in any given block cannot be altered retroactively without the alteration of all subsequent blocks, which needs a collusion of the network majority.
Originally devised for the digital currency, Bitcoin, the tech community is now finding other potential uses for the technology, including Cryptokitties, cute collectables that are helping push the technology into the mainstream.
Big brands, including Mastercard, have started to adopt the technology, and marketers are starting to realise its potential for loyalty schemes and data collection. Beyond commercial finance, Blockchain was used by the United Nations to send aid to 10,000 Syrian refugees using Ethereum Blockchain.
Advertising revolution: AI and programmatic usher in era of automation
2017 was the year that artificial intelligence went mainstream. From branded chatbots to Google's DeepMind now teaching itself, AI opened up exciting new opportunities to marketers. At the same time, programmatic marketing became the most accepted way of buying ads.

Advertising got smarter in 2017, with more automated ads and Facebook marketing becoming increasingly sophisticated. The futurist idea of 'machines teaching machines' started to become a reality, after Google revealed its AI was becoming more efficient at learning Go! Tactics than its human trainers.
Meanwhile big brands also switched onto machine learning, with Coca-Cola entrusting AI to make its next generation of ads, while Adidas shifted its TV budget to digital.
But as advertisers outsource more of their creativity to robots, are they sacrificing safety? This year YouTube was a big brand pulling their videos over extremist content fears, and Procter and Gamble underwent a huge transparency review of all its agencies.
Video marketing: Influencers grow up
This year, influencer marketing became increasingly important as social media stars began to eclipse TV celebrities in terms of brand reach- but at what price?
Top 30 social media influencers were revealed by Forbes, as YouTube and Instagram stars began to command huge fees to promote products on their channels.
The rise of vloggers has also lead to regulators stepping in, as the lines between sponsored content and editorial opinion become blurred.
Social media: Facebook's power leads to greater responsibility
Facebook dominated 2017, growing twice as fast as Google, with mobile ads driving its success.


However, the social media giant came under greater scrutiny than ever before, with allegations of exaggerated ad reach and fears that its Messenger app was listening to in-room conversations. Over in China, Weibo overtook Twitter for global active users as Asia continued to rise faster than Western markets.
Chatbots started to become more widely adopted in 2017, with big brands such as Tommy Hilfiger taking the medium onto video ads.
Facebook upgraded its Messenger chatbots with virtual assistants that could negotiate and plan ahead.
Hands-free search: Voice shakes up the SEO industry
The Amazon Echo has been one of the surprise success stories of recent years, taking voice mainstream and shaking up search marketing in the process.

Towards the end of the year, Google made a significant addition to its Home and Assistant devices by adding types of local search, opening up the voice activated platforms to lead generation for brands.
2017 also saw some of the biggest brands in the world sign up for 'conversational commerce' deals. Unilever is using Amazon's Alexa platform as a key role in the FMCG giant's digital transformation, while US retail giants Target and Walmart let people buy Walmart products using the voice-activated Google Assistant platform on phones and home devices.
Away from voice, Google got a smarter image search, but was also fined a record $2bn by the EU for bias on its shopping search channel results. Meanwhile, Bing partnered Reddit with an AI revamp to take on Google.
Movers and shakers: Disney ready for Netflix showdown
It was another year of consolidation and separation in the fast-moving digital world.

Disney bought Fox to take on Netflix, while Apple upped its AR game buying Shazam.
Google continued its efforts to break into the mobile game, buying half of HTC for $1bn while Amazon expanded further onto the high street with its Wholefoods purchase.
Verizon merged Yahoo and AOL under its new Oath umbrella brand while Google sold its cool (and slightly creepy) robotics arm Boston Dynamics to Japan's Softbank.
Ad block wars: Poacher turns gamekeeper (and vice-versa)
Ad blocking is now one of the biggest threats to digital marketing, with estimated to cost global publishers over $27bn by 2020 through lost revenues. But are we witnessing a slowdown, or simply a migration of filtering software from PCs to mobiles?

Ad blocking was a huge concern last year, but in 2017 its role was somewhat muted. Mobile ad blocking continued to rise, but in places like the UK, overall adoption started to level off.
In a controversial move, Google started to let publishers charge ad block users and even built its own ad blocker to take on rivals (and presumably protect its own ad ecosystem).
In a 'poacher turned game keeper' moment, one of the biggest independent ad blockers, Shine, quit the sector to become an advertising company.
Content marketing: The Netflix effect panics media giants
Facebook continued to challenge YouTube for video views, and started a standalone TV platform called Watch, making original content.

Netflix established itself as a major player to rival big broadcasters- panicking Disney in the process.
YouTube morphed into a social network with direct messaging tools, 'Twitter style' breaking news on the homepage and a revamp that incorporated mobile-friendly vertical videos.
Augmented reality: After the Pokemon hype
After the Pokemon Go hype of 2016, augmented reality has gone mainstream.

AR formed a major part of the latest iPhone X launch with 'Animojis', while Snapchat World Lenses opened up for sponsorship.
Retailers got in on the act, with embattled Toy R Us using an AR game to entice more people in store, while Unilever and Amstel invested in branded AR game Snatch.
Mobile: Forget the smartphone, meet the 'AI phone'
This year witnessed the dawn of the AI Phone, as manufacturers focused less on hardware features and more on how the technology can adapt around its user through machine learning.

Launching its latest Google Pixel 2 phone, Google CEO Sundar Pichai acknowledged smartphone features were "levelling off" and said it was hard to develop exciting new products based on hardware alone. Google said it is in a transition from a "mobile-first" company to an "AI-first" business.
This was also a milestone year for Android, which overtook Windows to become the most used operating system in the world, on any platform (PC or mobile).
Chat apps: Copycat Instagram soars above Snapchat
Ever since Facebook bought WhatsApp for a whopping $22bn back in 2014, chat apps have been big business, eclipsing text, email and older social media such as Twitter as the communication platform of choice, particularly among millennials- and this year Instagram made huge strides above its rival.

Facebook's other major app channels WhatsApp got more business friendly and began accepting payments, while Facebook Messenger got ads for the first time.
Meanwhile Snapchat struggled after its IPO, forcing new strategies including a new simplified layout, context cards and retargeted ads for the first time.
Virtual reality: Facebook opens its virtual social world
No longer a cheap gimmick, virtual reality made huge strides at both the low and high ends of the market. With many high-end games costing a big chunk of money, the VR experience lends itself well to brands who can provide an immersive experience for free. The platform is a marketers dream- you have the customer's complete attention- literally engulfing their senses.

Facebook shut down its VR production studio, but later launched standalone device called Oculus Go that aimed to push the technology to a billion social media users, beyond gaming and taking digital communication to a new level.
Meanwhile Google promoted its lower end (but still popular) 360 videos with an experiment that proved interactive VR ads on YouTube get more engagement than traditional 2D ones.
So where next for VR? Well, Tesla and Space X boss Elon Musk have some interesting plans…
Omnichannel retail: Amazon hits the high street as Alibaba soars
As the digital and offline world's converge, the way we shop is changing rapidly. Consumers regularly check their phones to compare prices, use vouchers and seek alternatives while on the high street- and brands need to make sure they follow this trend with a seamless multi-channel experience.

China's Singles Day, spearheaded by ecommerce giant Alibaba, once again broke records, making more money that Black Friday and Cyber Monday put together.
Meanwhile, Amazon continued to expand beyond its Wholefoods acquisition, with new innovations including instant pick up points and 'Wardrobe' a solution to the enduring problem of not being able to try clothes online.
Meanwhile, Adidas finally expanded into its own ecommerce platform with an AI driven mobile app.
Internet of Things: Baidu bots and driverless future
Every year, the Internet of Things is hyped as the next big thing, only to disappoint. From Snapchat Spectacles to smart fridges- mainstream take-up never quite materialises. But the potential remains huge.

Driverless cars continued their journey to commercial adoption, with Uber buying a fleet of 24,000 vehicles from Volvo.
In China, Baidu took on Echo with its own robot/ speaker hybrid, while in the UK, major UK telecoms firm Vodafone repositioned itself as an IoT company with a range of new gadgets.
The Gig economy: Regulation puts the breaks on Uber
Despite concerns over staff pay and conditions, it seems that the 'gig economy' is here to stay. The connected world makes it easier for people to buy and sell instant services in real time, whether its private plane rides or a home-cooked meal.

Uber experienced a backlash this year, losing its license in London, while Deliveroo suffered huge losses despite its growing popularity, showing some limitations to the sharing economy.
This didn't stop some brands getting involved such as CiF partnering with Helpling, a cleaning hire app.
Gamification: eSports sponsorship gets serious
Gaming has big business; and big brands need to start playing. From Let's Play guides and Twitch channels to eSports tournaments and in game sponsorship, gaming has evolved this decade to become a tremendous marketing opportunity.

This year, YouTube upped the monetisation of gaming channels. Big brands also got involved, with Doritos working with gaming influencers, San Miguel sponsoring an eSports team and Coca-Cola even creating a virtual player on FIFA 18.
Big data and politics: Is democracy playing catch-up with digital?
The fallout of Brexit and Trump played a big part in 2017, with some brands reassessing if they really knew their audience.

Digital certainly played its part in the political upheaval, with Facebook now established as a major source of news, prompting Zuckerberg to implement 'fake news' checks on the site and launch his own 'manifesto'.
Big data is playing an ever-bigger role in politics, and one landmark investigation joined the dots between the Trump and Brexit campaigns.
Regulation: GDPR- opportunitiy or threat for 2018?
With the new European privacy rules set to come into force on 25th May 2018, marketers need to be ready- but is a threat to data or a chance to be more creative and engaging?
GDPR will give a consumer the right to modify, delete and receive a copy of the data any organisation holds on them. Businesses will also have to earn explicit consent from people to use their data for marketing purposes and also receive marketing messages. This consent can also be revoked as easily as it was given, at any time.
For people still unsure how the new laws will affect their business, IAB Europe created a consent standard to help brands comply.
For talented marketers GDPR will create an environment in which they will flourish. Senior marketers agree that the new data laws will mean more creative campaigns to acquire customers.
It was a bad year for…
Snapchat
It started so well for Snapchat, riding high with millennials and beating expectations with its IPO, but as Instagram outplayed the chat app and it's confusing layout alienated older users, Snapchat found itself struggling by the end of 2017.
AIM
AOL's instant messenger pioneer AIM closed its doors after 20 years, no longer able to compete in a world of Instagram, WhatsApp and Snapchat.
Yellow Pages
Iconic directory book yellow pages was forced to go online-only as Google and classifieds sites like Gumtree.
Flash
Adobe announced that video software stalwart Flash would be phased out by 2020, surpassed by new platforms such as HTML5.
Vine
Twitter's innovative 6 second video platform, responsible for many memes in its short life, shut down early on in the year.
LoveFilm
Amazon's DVD rental service, itself partly responsible for Blockbuster's demise, shut its doors this year as owner Amazon focused on its streaming services to take on Netflix.