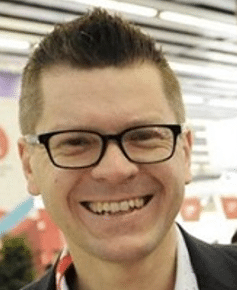 Peter Mazurkiewicz
VP Strategy & Insight
A digital transformation leader who designs and delivers global digital and integrated marketing training as part of transformation programs.
Peter has led global capability programs for Unilever, Coca-Cola, and Diageo among others and has supported brands across sectors. He has worked with marketing leadership teams in more than 40 countries, getting them to unlock greater ROI from their investments, and create winning digital brand strategies. His focus on marketing transformation and business transformation include designing the right approach for a brand, a portfolio of brands, a country operating company or a global business.
Specializing in FMCG, pharmaceuticals, toys and consumer electronics, he led the design of the Digital Acceleration Program for Unilever's marketers. He has been focused on digital transformation strategies and capability development to find smarter ways for organizations to operate. As a trainer, he has co-facilitated training workshops for more than 2000 marketers, technologists, media and research teams.
Here at Digital Strategy, Peter leads on identifying the challenges organizations face as they create digital communication strategies and processes. His areas of expertise include strategy creation, business process re-engineering, and change management in global organizations. His work at Digital focused on strategy development, management coaching, and agency evaluation. He began working with Digital's team in 2006 as a research manager, and then junior strategist, exploring trends in online media, and ways to improve effectiveness. His early work led to strategy projects for online media brands – alongside the delivery of management coaching – in Central & Eastern Europe, Scandinavia, Africa and closer to Digital's home in Western Europe.
Following degrees and laboratory research projects in science at several of Europe's leading universities, he carried his insights from statistical analysis and data modeling into market analysis strategies and interpreting business and customer needs. Peter's languages include conversational Dutch and fluent Polish. Away from the web he is a keen skier and scuba diver, has a critical weakness for technology gadgets, and still retains an active interest in scientific research.