New Shutterstock tool 'Smart brief' speeds up creative ad process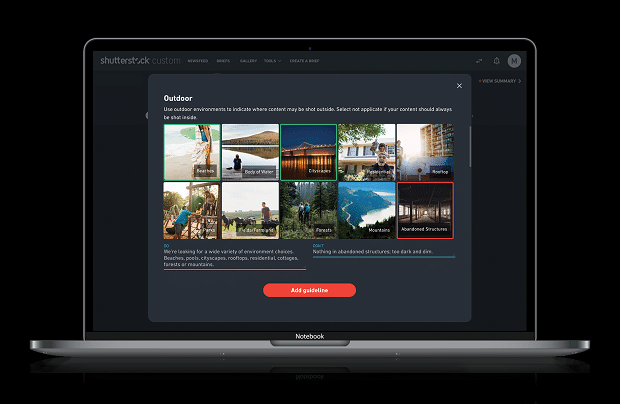 Shutterstock has launched Smart Brief, a new streamlined and guided experience to improve the quality and speed of the briefing process.
After analyzing hundreds of briefs and client interviews, the new Smart Brief technology was designed to simplify brief input time for quicker, more accurate results.
In 2017, Shutterstock Custom was launched to provide enterprise clients with an innovative technology platform and tools to scale branded content creation. The team has since been working on identifying pain points, evaluating trends and listening to customers to discover ways to simplify the process.
A successful creative brief serves as a vital tool for executing the content creation for campaigns. Smart Brief comes at a time when advertising and the creative industry needs to shift to meet the demands of social platforms and automate workflows.
Key features of the Smart Brief process include:
Intelligence – new guided experience only asks relevant questions as the user moves through the process to capture accurate inputs and eliminate conflicting and unnecessary information
Collaboration – clients have the ability to accept changes and recommended improvements from other team members, view and revert to previous versions and quickly clone existing briefs
Flexibility – as needs change throughout the year, clients can adjust control, production value, and service level per project
"The traditional creative brief process is laborious, time-consuming, and leaves a lot open to interpretation. But a good brief that captures the brand voice serves as the foundation of any campaign and is absolutely essential to its success. Using innovative technology, we set out to automate and simplify the experience," said Sylvain Grande, SVP of Product & UX at Shutterstock. "The result, Smart Brief, streamlines our clients' workflow and in turn, allows them to receive content faster without compromising results or having to be on set."
Experience Shutterstock Custom Smart Brief from Shutterstock on Vimeo.