eCommerce ad spend up 51% increase as brands shift budgets to Amazon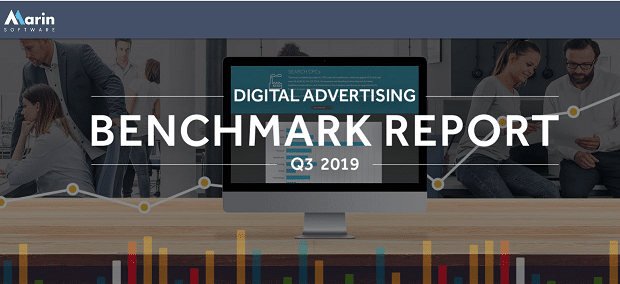 The amount brands are spending on ecommerce ads has risen 115% year-on-year as Amazon advertising reaches new heights, according to new global research.
The findings, from Marin Software, form part of its worldwide Q3 2019 Digital Advertising Benchmark Report.
Ecommerce spend has increased exponentially in the last quarter. This growth is driven mostly by Amazon spend after the e-commerce giant reported a record-breaking Prime Day and a strong back-to-school season. Overall eCommerce ad spend was up 115% in Q3 2019 compared to Q3 2018, demonstrating brands have recognised the value of this channel.
Key findings include:
Paid search sees mobile growth – 47% of total search spend was dedicated to mobile advertisements with 5% YoY mobile growth for paid search. The education sector has the highest percentage of mobile share (67%), as students in "the smartphone generation" flock to this platform.
Healthcare sector sees a jump in clicks vs CPC decrease – Overall search click volume has grown 14% YoY, with a big jump in ad clicks for healthcare (85%). Today's digital advertising landscape has more of a "real-time" approach in that it can connect doctors and patients more immediately. Healthcare also saw the biggest CPC drop which dropped 47% YoY, sitting now at $0.61 for Q3 2019.
eCommerce races out of the gate in Q3 2019 – Spearheaded by Amazon, eCommerce ad spend was up 51% versus Q2 2019. As we head into the Q4 holiday season, we so no reason eCommerce growth would change course. Sponsored Brands continue to account for about 20% of the eCommerce ad budgets through Q3. The CPC for Sponsored Brands is slightly higher (27%) than that for Sponsored Products, due to the prominent top-of-page ad placement.
Wesley MacLaggan, SVP of Marketing at Marin Software said: "Amazon has had a phenomenal year, supported by a record-breaking Prime Day and a highly successful back-to-school season. Brands have begun to recognise the power advertising on Amazon has and the unique opportunity it offers to capture people starting their purchase journey.
"With Black Friday and Cyber Monday just around the corner, Marin expects the rise in eCommerce to continue into 2020 as Amazon refines its offering and advertisers get more sophisticated in how they use Amazon's platforms.