Fake news report: UK investigation concludes Facebook is a "digital gangster"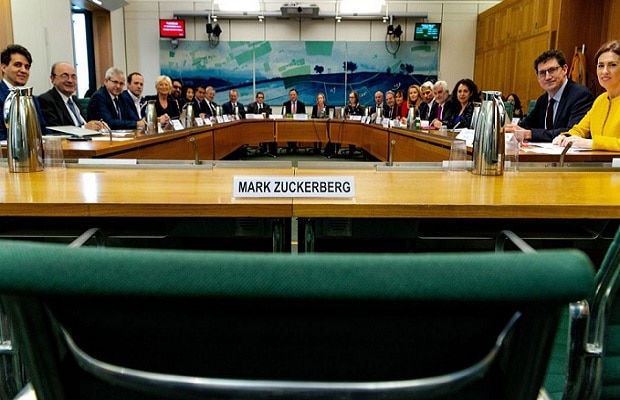 A UK parliamentary committee has published its findings after an 18-month investigation into fake news, accusing Facebook of obstructing its inquiry and "intentionally and knowingly" violating data privacy laws.
The Digital, Culture, Media and Sport (DCMS) committee called for a code of ethics to regulate social media platforms to limit the spread of fake news. It also calls for an independent regulator to monitor tech companies and bring legal charges against them.
The committee expressed concerns about "dark adverts" from unidentifiable sources and warned the social media giant was using its dominance to crush rivals and prevent other platforms from competing with it.
The committee said internal Facebook documents it obtained showed the tech firm "violated" laws by selling people's private data without their permission.
"Companies like Facebook should not be allowed to behave like 'digital gangsters' in the online world, considering themselves to be ahead of and beyond the law," the report warned.
The report also rounded on Facebook chief Mark Zuckerberg, who was accused of showing "contempt" towards the committee by choosing not to appear before it last year.
Damian Collins, the United Kingdom lawmaker who leads the Digital, Culture, Media and Sport Committee in the House of Commons, said: ""These last 12 months really have been a period of investigation and discovery. The guiding principle of the "move fast and break things" culture often seems to be that it is better to apologise than ask permission". He reiterated his threat to force Zuckerberg to testify before Parliament if he ever travels to Britain, a statement Collins first made after the Facebook executive repeatedly declined to appear at hearings a year ago.
"Social media companies can not hide behind the claim of being merely a "platform" and maintain that they have no responsibility themselves in regulating the content of their sites".
"Companies like Facebook exercise massive market power which enables them to make money by bullying the smaller technology companies and developers who rely on this platform to reach their customers".
Citing evidence of agencies working from the Russian Federation, as well as an unidentifiable organisation called the Mainstream Network that urged voters to lobby their MP to support a no-deal Brexit, Collins criticised the fact that law did not require such actors to identify themselves.
New recommendations
The committee recommended new regulations on digital political advertising, calling for "absolute transparency" that would allow anyone who saw on online political ad to determine who made it, who uploaded it, who paid for it and what country they came from.
"The rights of the citizen need to be established in statute, by requiring the tech companies to adhere to a code of conduct written into law by Parliament, and overseen by an independent regulator".
"The process should establish clear, legal liability for tech companies to act against agreed harmful and illegal content on their platform", the report said.
"Even if Mark Zuckerberg doesn't believe he is accountable to the UK Parliament, he is to the billions of Facebook users across the world".
The proposed code of ethics, which would also cover illegal content, would be overseen by an independent regulator with the power to launch legal action against companies who breach it.
The regulator could issue large fines against social media giants such as Facebook and Twitter under the move.
Shadow culture secretary Tom Watson said the "era of self-regulation for tech companies must end immediately".
Facebook has come under intense pressure over some of its business practices in the last year.
It follows the Cambridge Analytica scandal, a series of data breaches and concerns over fake news and other content on the site.
Ministers were also asked to reveal how many investigations are being carried out into Russian interference in UK politics. The committee estimates that the state-controlled channels RT and Sputnik's pro-Leave websites garnered 134 million potential impressions, nearly five times the reach of the two domestic campaigns combined. (Vote Leave with 33 million impressions and Leave EU with 11 million). Had Russia paid for a social media campaign of this scale the committee estimates it would have cost between £1.4 and 4.14 million.
Moreover, the report reveals how the Internet Research Agency, a Kremlin-backed Petersburg-based troll farm indicted for election interference in the US, was simultaneously intervening in British politics, with a marked emphasis on stirring up Islamophobia and racial hatred. It "tried to fuel social divisions, including religious tensions, in the aftermath of the Westminster, Manchester, London Bridge and Finsbury Park terror attacks", according to the parliamentary report.
The government is expected to publish a white paper later this year on proposals to reform laws to make the internet and social media safer.
An electoral commission spokesman added: "We agree that reform of electoral law is urgently needed. The UK's government must ensure that the tools used to regulate political campaigning online continue to be fit for purpose in a digital age."
Watch this CNN video interview with Guardian journalist Carole Cadwalladr, who has been at the forefront of investigating how political advertising is being funded on Facebook and other social media sites without transparency.
"Many of the laws were in place and it deliberately set out to break them."

Here's @CaroleCadwalla on the @CommonsCMS report into #fakenews… and what prompted UK lawmakers to label #Facebook "digital gangsters." @CNNi #newsstream pic.twitter.com/uydEL0ASXi

— Kristie Lu Stout✌🏽 (@klustout) 18 February 2019

Facebook's response
Responding to the report's criticisms, Karim Palant, from Facebook UK's public policy department, said: "We share the committee's concerns about false news and election integrity and are pleased to have made a significant contribution to their investigation over the past 18 months, answering more than 700 questions and with four of our most senior executives giving evidence.
"We are open to meaningful regulation and support the committee's recommendation for electoral law reform. But we're not waiting. We have already made substantial changes so that every political ad on Facebook has to be authorised, state who is paying for it and then is stored in a searchable archive for seven years. No other channel for political advertising is as transparent and offers the tools that we do.
"We also support effective privacy legislation that holds companies to high standards in their use of data and transparency for users.
"While we still have more to do, we are not the same company we were a year ago. We have tripled the size of the team working to detect and protect users from bad content to 30,000 people and invested heavily in machine learning, artificial intelligence and computer vision technology to help prevent this type of abuse."
Parry Malm, CEO & Founder, Phrasee commented on the findings: "There are not many firms out there that are outwardly sharing ethics policies – it's one thing we lack in this industry. It shouldn't take 100 pages of legislation from the government to force a company to become ethical. Brands should, and will be, judged by the company they keep. I believe that as the call for high ethical standards from consumers gets louder, companies will increasingly be driven by concerns for their reputation, rather than regulation. Regulation will be slow to catch up, but front-page scandals can be exposed in an instant."
Cambridge Analytica links
The report came one day after the Observer revealed Special Counsel Robert Mueller has subpoenaed Brittany Kaiser, director of the now-defunct data company Cambridge Analytica who worked on Nigel Farage's Leave EU campaign.
The report includes an update from the National Crime Agency, which has launched an investigation into the source of £8m of funds which Arron Banks poured into Nigel Farage's Leave EU campaign, after a referral from the Electoral Commission that had concluded the money did not come from a permissible UK donor.
The parliamentary report examines evidence that Russia had access to the Cambridge Analytica database, itself compiled through the hacking of between 50 to 170 million Facebook users, and reveals this has been referred to the NCA by the Information Commissioner Elisabeth Denham.
The report concludes by calling for an "independent investigation into past elections" – including the 2014 Scottish Independence referendum, the Brexit vote and the 2017 general election – "to explore what actually happened with regard to foreign influence, disinformation, funding, voter manipulation, and the sharing of data, so that appropriate changes to the law can be made and lessons can be learnt for future elections and referenda".