TikTok shines light on unsigned artists with new music campaign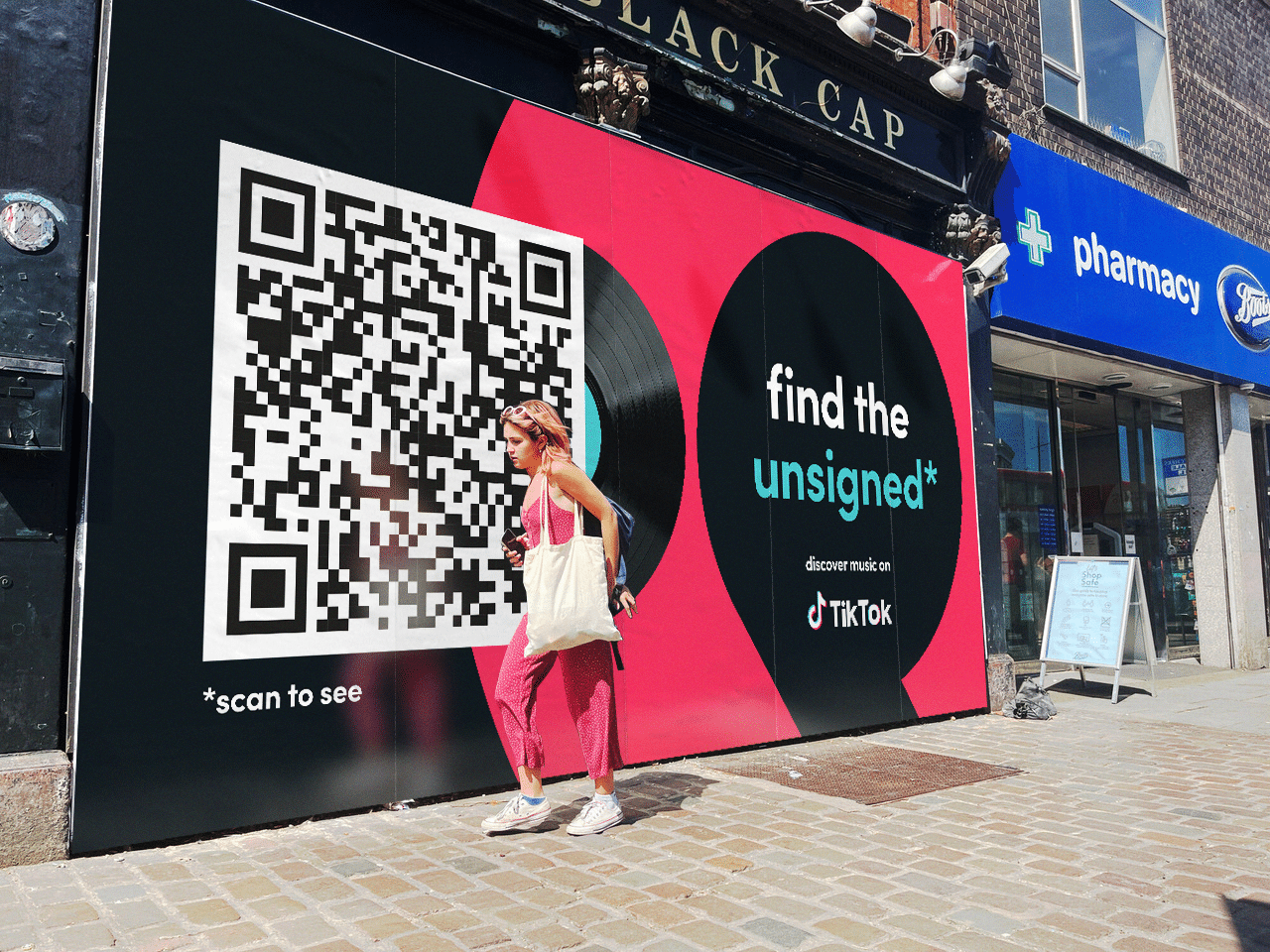 TikTok has launched its first ever outdoor advertising campaign dedicated to the music industry.
Throughout August, the social media platform will be shining a light on the incredible unsigned talent that exists within the platform, all of whom are only moments away from finding their big break.
From this week, TikTok is running billboards and fly postering across London, Birmingham, Brighton, Bristol, Glasgow, Sheffield, Leeds, Liverpool and Manchester, featuring QR codes which, when scanned, will take you to a special showcase of talented unsigned artists on TikTok.
A 'Find the Unsigned' page in-app will help people discover more about each artist and hear their music via a 'Listen here' tab.
The billboards and posters will be located near music venues like Brixton Academy (London) & O2 Apollo (Manchester), helping music fans get first sight of the next generation of musical talent.
To reflect the eclectic and diverse artists that have gone viral on TikTok to date, the campaign features a range of musical genres – from Pop, to Indie Alt, Rap and Garage. Here are just some of the artists who will be featured in the campaign and in-app:
• Flossie – @flo55ie: Flossie writes songs from her London bedroom. Her Bedroom Demos EP has just been released on 02 July, starting with the track Moon River. She is known on TikTok for butterfly prawns.
• V.I.C – @hellovicco: The 22-year-old rapper, who freestyles from his university bedroom, has over 320K followers on TikTok. V.I.C went viral with his covers of Dave's Funky Friday and Location, Dixie D'Amelio's Be Happy as well as his own Dear Mr. Prime Minister series.
• Here At Last – @hereatlastofficial: With 2.5M followers on TikTok, Here At Last is a boyband that has risen to fame with no record label or reality TV show. They're the One Direction of the TikTok generation.
• Cody Frost – @codyfrostmusic: Cody Frost has experienced a lot on the road to her new EP IT'S NOT REAL; from heady highs and crashing lows, despair and disillusionment, to self-care and catharsis.
• AIDÁN – @bonjouraidan: AIDÁN, a South London singer-songwriter, who was born to an Irish mum and Nigerian dad, writes and co-produces all of his songs which are soon to be released. He hopes to showcase his various influences within these tracks.
• Orchid – @whatswithorchid: Orchid's brand of alternative garage pop is reflected in her upcoming project – five tracks of syrupy vocals over experimental production that ranges from bouncy to mournful. Her musical and rhythmic influences are strongly rooted in time spent in Ghana and Brazil, and a life-long love of Latin American music styles such as samba, reggaeton and baile funk.
Paul Hourican, Head of Music Operations UK at TikTok said: "Music is a central part of TikTok and every day our global community are discovering new sounds and genres, and helping artists build fanbases and achieve success.
TikTok is a platform that's made for discovery, which makes it easy for people to hear artists for the first time. Our community are constantly championing new artists and we've seen some incredible examples of that in the past year – from Liv Harland and Emelie Hallett busking from their home towns and the global community on TikTok, to Nathan Evans and A1 x J1 going from bedroom to billboard. TikTok is a platform that's made for discovery, and this campaign is all about giving even more unsigned artists a voice and audience, both on and off TikTok."