Google debuts $300m news initiative with platform to manage subscriptions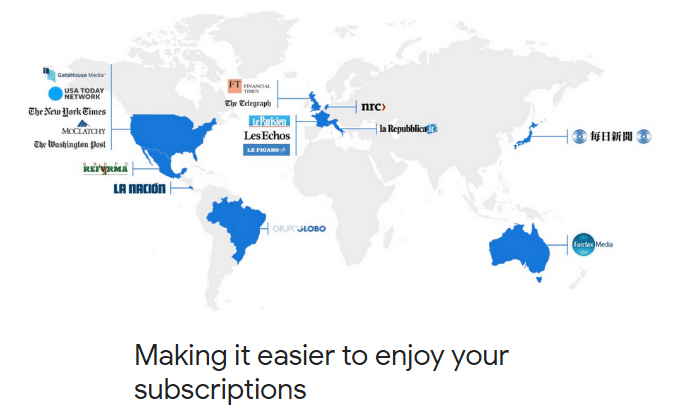 Google has launched is a new platform designed to help publishers convert readers into subscribers.
The move forms part of a major new company-wide initiative worth $300m (£214m) over three years.
The Google News Initiative will bring together all of Google's collaborations with the news industry under one banner. The company says its aim is to "help build a stronger future for news".
The $300m investment is in addition to the pre-existing $150m Digital News Initiative innovation fund and will be used to support products, partnerships and publishers.
Press Gazette understands the GNI scheme will subsume the DNI brand, but that the innovation fund will continue until all €150m has been spent – currently €90m has been awarded so far.
Part of the GNI initiative includes the creation of a new platform to manage subscriptions to news outlets, called Subscribe with Google.
In a blog post , Google project management director Jim Albrecht said: "Subscribe with Google lets you buy a subscription, using your Google account, on participating news sites.
"Select the publisher offer you'd like to buy, click 'Subscribe' and you're done. You'll automatically be signed in to the site, and you can pay – securely and privately – with any credit card you've used with Google in the past.
"From then on, you can then use 'Sign In with Google' to access the publisher's products, but Google does the billing, keeps your payment method secure, and makes it easy for you to manage your subscriptions all in one place."
Once subscribed, readers will see a dedicated section in Google search – when searching a news topic – that shows them all relevant results from publications they are signed up to.
Launch partners for Subscribe With Google include UK newspapers the Financial Times and The Telegraph as well as Le Figaro and Le Parisien in France and The New York Times and Washington Post in the US.
Google also said it was releasing a new analytics tool, News Consumer Insights, to help news organizations "understand and segment their audiences with a subscriptions strategy in mind".