UK broadcasters unite to take on Netflix with 'BritBox'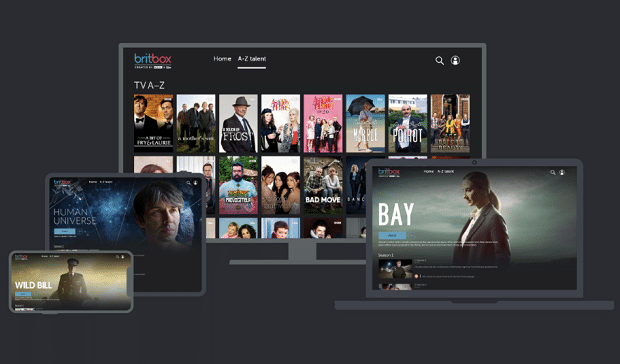 UK streaming service BritBox has launched, offering programming from BBC, ITV, Channel 4 and Channel 5, for £5.99 a month.
BritBox is billed as "the biggest collection of British box sets available in one place", from classic programmes to newer shows.
Doctor Who fans will find 627 episodes of the classic, originally broadcast between 1963 and 1989, available to stream from Boxing Day.
Full box sets include all the series and specials of Downton Abbey, Broadchurch, seven series of Only Fools And Horses, three series of Gavin & Stacey and both series of Extras.
BritBox will be the home of Agatha Christie's Miss Marple and Poirot, and Love Island fans will be able to rewatch the previous series.
BBC exclusives will include The Great British Bake Off – from before it went to Channel 4 – Les Miserables and The Split.
Shows like The Office, Happy Valley and Doctor Foster will also become available.
The launch comes after global giants such as Netflix and Amazon made their mark on British homes.
It comes 10 years after the Competition Commission vetoed a similar joint service, saying British viewers value UK programmes and "do not regard other content as a good substitute".
More BBC and ITV shows will appear on the service as licence agreements with streaming services like Netflix expire.
"The opportunity to collaborate… on BritBox extends our track record of partnership and will ensure there is a compelling single destination for the very best high-quality, home-grown content.
The broadcaster's chief executive Alex Mahon said: "Channel 4 has always showcased distinctive and diverse British content and, in a world of almost unlimited choice, our public service brand values are more important than ever for viewers.
"The opportunity to collaborate as PSBs (public service broadcasters) on BritBox extends our track record of partnership and will ensure there is a compelling single destination for the very best high-quality, home-grown content."
The service will include factual programmes presented by the likes of Sir David Attenborough, Professor Brian Cox, Michael Palin, Sue Perkins and Romesh Ranganathan, and also classic films.
BritBox has partnered with BT on products that feature access to BritBox and with EE as its mobile partner.
Commenting on the launch, Luke Bozeat, COO, MediaCom UK, argued that as traditional broadcasters enter the VOD market, Netflix's dominance is becoming increasingly under threat. But for Britbox to be competitive, it will need to find the right mix of old, new and original content.
"With the launch of BritBox, Britain's 'traditional' broadcasters enter the VOD market armed with an affordable price point, and a combination of exclusive new and classic shows that appeal to multiple generations," Bozeat said. "The eagerly awaited move is a clear attempt to be a competitor to the likes of Netflix, Amazon Prime and Sky's Now TV, as well as incoming entrants Disney+, HBO Max and many more. It's a necessary shift for all four UK broadcasters that have arguably failed to reach younger audiences who consume content on phones, laptops and tablets; Ofcom recently stated that the BBC needs to do "much more" to both attract and retain younger viewers.
"Increasingly, Netflix's dominance is under threat; consumers will carefully pick which service best suits their needs, and they'll vote with their wallets. But BritBox isn't alone in the challenge to ensure their content isn't a case of quantity over quality. As senior British talent like producer Chris Sussman (whose credentials include Fleabag & Bad Education) are poached by competitors, retaining home-grown talent will be crucial to increasing their share in the streaming sphere. This will only be possible through unmissable programming like hits Killing Eve and The Bodyguard. Britbox could well be the big break BBC, ITV, Channel 4 and Channel 5 need to flourish – provided they can all find the right mix of content old & new, originality and talent."