Snapchat unveils gaming and AR platform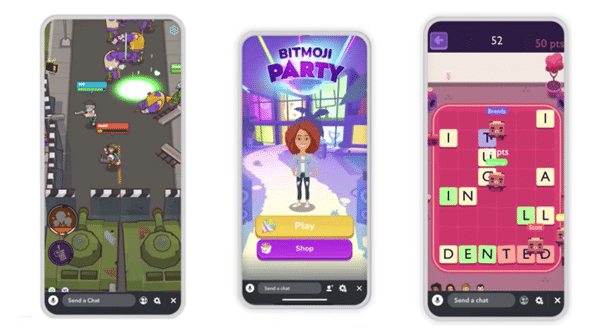 Snapchat has launched a multiplayer video game service, alongside a new AR utility platform, as the chat app looks to expand amid growing competition from larger rival Instagram.
Snap Games will enable friends to play against each other without installing any extra apps or paying any fees, and is being touted by Snapchat as a new way for users to interact with one another.
Meanwhile, a new feature called Scan is designed to let users interact with their surroundings using AR. The company has partnered with Photomath, a camera app that solves math problems, and Giphy.

Snap Games is launching with six titles:
In Bitmoji Party, you can play as yourself in a series of quick, wacky mini-games.
Tiny Royale from Zynga lets you and your friends shoot to the top in bite-sized Battle Royale action.
Snake Squad from Game Closure lets you and your squad work together to be the last ones standing.
C.A.T.S. Drift Race from ZeptoLab lets you drift around the track and speed past friends for the win.
In Zombie Rescue Squad from PikPok, your squad will rescue survivors in a zombie-infested city.
And in Alphabear Hustle from Spry Fox, you'll collaborate to form words — fast! — to build your village.
Discussing the new platform at Snap's first-ever Partner Summit, Snapchat's Will Wu said: "Last year, mobile gaming was a 77 billion-dollar industry. Today, there are hundreds of thousands of games available for our phones. But interestingly, with all of those games, there aren't many that make it easy for friends to play together. We wanted to build something that makes us feel like we're playing a board game with family over a long holiday weekend. We love these sorts of games because they give us an excuse to hang out, laugh, and make memories together. Unfortunately, these games are hard to find on mobile. There's way too much friction. It's hard to get everybody to install the same game, then find friends to play with, and it's hard to chat. Snapchat has the right ingredients to break down these barriers. Snapchat can make playing games with friends incredibly fast and fun."

Josh Krichefski, CEO at MediaCom commented on how Snapchat is having to innovate to stay relevant and why this shouldn't be seen as a cry for help but rather a massive opportunity for the platform.
"Snapchat's new AR and gaming announcement is a great example (once again) of the company having to innovate to stay relevant, and the move is reflective of the consumer demand for different types of content, engagement and entertainment all in the same place," Krichefski said.
In recent similar moves, Instagram introduced IG-TV (video) and Instagram Checkout (retail), while Facebook invested more heavily in live streaming with Watch Party (social video). Snap's foray into gaming and other social app integration is an attempt to not just draw in another pool of gaming users but create a more social hub for friends to connect and play games together. With nearly half of all UK consumers using apps on their phone to play games, this could become a key market for the platform and the advertisers looking to take advantage of a new surge in activity.
"These additions to the platform marks a long way since Snap's roots: the app has evolved from a simple photo-sharing app to a multi-billion dollar media machine, combining video, celebrity, eCommerce, immersive virtual & augmented reality – to name but a few – and now gaming to its roster. This isn't a cry for help from the company, but rather a clever move to keep users engaged in different ways in a bid to perhaps become the most "social" of all the social media platforms."