Top 10 European cities for AI development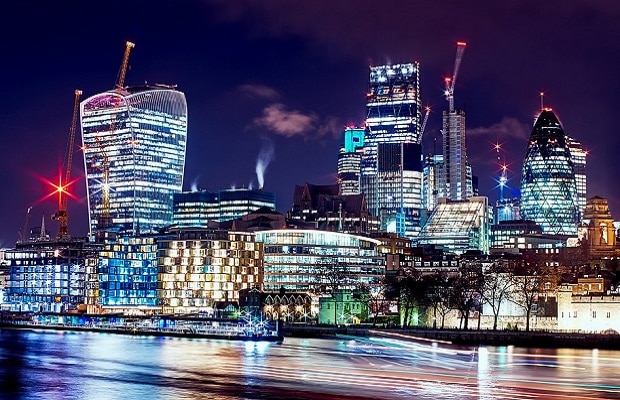 Stockholm, London, Amsterdam and Berlin top the list for the top cities developing artificial intelligence technology, according to new research.
London's thriving Artificial Intelligence sector is a major draw for global investors and international talent according to fresh data released today tracking venture capital flows and talent trends in Artificial Intelligence across global cities. The research reveals that the UK capital's AI sector is one of the world's leading hubs for scaling an AI business, with a competitive market for AI talent and more growth capital available than any other major European technology hub.
Global investors are showing a strong appetite for London based AI companies, with figures from investment data-provider PitchBook revealing that the city's AI firms have already received more venture capital in 2018 than the whole of last year. With double the amount of AI companies than other European cities, investment into London's AI sector has grown rapidly over the past few years, with VC funding increasing over two hundred per cent during the two-year period from 2015 to 2017.
The city's fast-growing AI cluster has also provided a major boost to the UK's AI credentials, with London's AI companies raising over sixty five percent (£839m) of the total £1.27bn invested in British AI firms over the past five years.
The growth of London's AI sector and its attractiveness as a place to grow and scale an AI company is also being driven by the city's high concentration of highly skilled tech talent and graduates, with separate data from global job site, Indeed, showing that that the share of AI jobs in London is higher than other European tech hubs such as Paris and Berlin.
| | |
| --- | --- |
| Tech Hub | No. of AI jobs per 1M total in the city |
| Stockholm | 1,166.8 |
| London | 867.6 |
| Amsterdam | 730.4 |
| Berlin | 676.8 |
| Paris | 659.7 |
| Prague | 543.6 |
| Copenhagen | 501.4 |
| Lisbon | 480.0 |
| Madrid | 469.0 |
| Dublin | 375.3 |
Source: Indeed 2018
Rajesh Agrawal, Deputy Mayor for Business, said: "We already know that London is the Artificial Intelligence capital of Europe, with the capital housing more than twice as many companies as its closest rivals, Paris and Berlin, combined. Today's figures show London has an ideal mix of growth capital and world-class talent, making it the best place for international companies establishing or expanding an AI business."
Raj Mukherjee, senior vice president for product at global job site Indeed, said: "Today, 62% of all technology job postings on Indeed are in London and that demand by employers for skilled workers will continue to rise. Tech giants like Facebook and Twitter may have blazed a trail but as our list of top AI employers shows, cutting-edge academic research make universities some of the UK's biggest AI employers."
"AI sits at the heart of Britain's tech boom, and the UK has emerged as a world leader in the creation of both AI technology and jobs. Indeed's data shows that AI skills are more in demand in the UK than in any other developed economy, with the appetite among British employers even outstripping that of their US counterparts."
Some of the top employers and sources of AI talent in London are the city's world-class universities, with the findings from Indeed also showing that University College London features alongside the likes of Twitter and Amazon as the capital's leading organisations for recruiting AI talent3.
UCL announced it will open a new integrated Centre for AI hosted by its Computer Science department later this year – the largest of its kind in the UK. Over 200 UCL researchers will move into the purpose-designed Centre, to create a hub of advanced R&D and learning that is being supported by many UK and international companies, including global tech leader Cisco.
Imperial College London is also recognised as a world leader in AI research and has over 600 staff working on AI projects across the College. In addition to London's world class universities, London's strengths in AI research and development are being led out of the Alan Turing Institute, the UK's national centre for data science and artificial intelligence situated in London's Knowledge Quarter.
Other major tech companies showing a strong appetite for London's AI talent includes the likes of Facebook, BenevolentAI and Farfetch. Following its acquisition of London start-up DeepMind, Google is now one of the leading employers of AI staff in the capital with its London Google HQ housing over 700 employers.
London based- AI health start-up, Babylon, recently announced it will be investing £77m ($100m) to double its London team to 1,000-plus and expand its AI capabilities to cover Chronic Disease Management – creating 500 new jobs for scientists and engineers in the capital.
The UK capital's AI ecosystem has also been given a strong vote of confidence by major US tech companies, with the recent news that Facebook has acquired Bloomsbury AI, a London-based start-up specialising in natural language processing. This follows the high-profile acquisitions of Deepmind by Google, Swiftkey by Microsoft and Magic Pony by Twitter in 2016.
Dr Ali Parsa, Babylon's Founder and CEO, said: "London's world-class talent pool and strengths in Artificial Intelligence and digital health made it the ideal location in which to build our expanded AI operations. We see this £77 million self-funded investment in job creation and AI research and development as a strategic catalyst in helping to support and foster the necessary R&D eco-system for Britain to remain at the forefront of global AI innovation, both now and into the future."
Dr Celia Caulcott, VP (Enterprise), UCL Innovation & Enterprise said: "Our teams anticipate that continued breakthroughs from their work on the next generation of AI technologies will be key to controlling and shaping the future landscape for many industrial and social applications, and we warmly welcome international partnerships here in London."
"As recent examples including Deep Mind and Bloomsbury AI show, UCL's expert graduates and staff in the tech domain have an appetite to translate their innovations into viable businesses, and London has so far provided an excellent environment for them to prove themselves, grow, and transfer their knowledge to the world."
Nick Jennings, Vice Provost (Research and Enterprise) and Professor of Artificial Intelligence at Imperial College London, said: "Many of the most exciting developments in AI are embedded in and around research-intensive universities – a key driver of London's success. The capital is one of the world's top centres for AI talent, discovery and innovation.
Imperial's network of AI researchers are using and developing the technology to spot signs of cancer, improve safety of driverless cars, detect fake news and tackle humanitarian crises."
Further analysis of the investment data shows that while London is a leader on the European stage, globally, San Francisco has seen the highest levels of AI investment in the past five years, with New York also ranking highly.4 (see table below)
China is also showing significant growth in AI funding, with Beijing-based AI firms attracting almost £1.63bn in funding last year alone – over two times the £599m raised in 2016.
At this year's London Tech Week 2018 in June, the Mayor of London Sadiq Khan launched a new report produced by Cognition X, outlining the opportunities to unlock innovation and investment in London in order to maximise the economic impact of AI on the city, and to support the Mayor's ambition to make London a world-leading Smart City.
Key findings from the report, entitled "London: The AI Growth Capital of Europe", include:
London is home to 758 AI companies – double the total of Paris and Berlin combined. They specialise in more than 30 industries with particular strengths in insurance, finance and law. Some 645 of these companies have a headquarters in the capital.
43 per cent of London's AI suppliers have at least one non-UK founder. 32 per cent have at least one founder who are from Black, Asian, and minority ethnic backgrounds.
25 per cent of London's AI suppliers have at least one female founder, compared to just 17 per cent of global start-ups. The report says that London has an opportunity to build on the current levels of female founders and provide a start-up environment that encourages higher levels of female participation in AI and across the technology sector.
80 per cent of the top 50 AI companies in the UK are London-based.
62 per cent of census respondents rated London as the best or generally better for access to skills and talent than rival AI hubs, the number one location selection criterion.
13 universities in the capital offer AI, machine learning and related undergraduate and postgraduate degrees a crucial component of London's growing AI cluster and acts as an important engine for growth.
According to the Cognition X report, London's AI cluster is building a strong reputation for developing cutting edge AI technologies for medical solutions, with more healthcare related AI companies than New York. Earlier this month, DeepMind announced the breakthrough findings of its trial with London's Moorfields Eye Hospital as it found that AI technology could diagnose eye disease as accurately as some leading experts. BenevolentAI, which applies AI to develop new medicines for hard to treat diseases, received one of the largest funding rounds this year, raising $115m in April and making it one of London's most recent unicorn companies.
London's status as a global financial services centre and leader in the development of financial technologies has helped the city's AI finance ecosystem to flourish, with over 140 companies in this area – 77% more than San Francisco [reference report]. Digital challenger bank, OakNorth, has received significant investment over the past few years as it increases the application of its Acorn Machine AI based platform to licensed lenders across the world. London based fintech start-up, Onfido, helps businesses verify people's identities using a photo-based identity document, a selfie and artificial intelligence algorithms. Onfido works with a number of financial institutions and e-commerce firms and last year the company raised an additional $30m in funding, bringing its total investment to around $60m.
With a strong hub for creative industries, London is also producing a number of cutting edge AI companies that are revolutionising the way users view, search and interact with media content – with more AI companies in this area than San Francisco and New York. London based start-up, Factmata, which recently raised $1m in seed funding that includes backing from Biz Stone, one of the co-founders of Twitter, has the ambition to create an AI based media platform to combat fake news. Other leading companies include Snaptivity which uses AI technologies to provide pictures for sports fan engagement and Blippar that is combining AI and AR technologies to change the way we view digital content.
Table showing venture capital funding into AI companies across major global cities from Jan 2013- August 2018
| | | | | | | | |
| --- | --- | --- | --- | --- | --- | --- | --- |
| Tech hub |   |   |   |   |   |   |   |
| | 2013 | 2014 | 2015 | 2016 | 2017 | 2018 | Total |
| San Francisco | £418.08m | £1.83bn | £2.07bn | £4.46bn | £806.03m | £1.84bn | £11.44bn |
| Beijing | £11.66m | £53.75m | £197.32m | £599.56m | £1.63bn | £1.07bn | £3.57bn |
| New York | £79.43m | £165.62m | £318.28m | £667.51m | £593.85m | £1.2bn | £3.05bn |
| Shanghai | – | £1.28m | £400.93m | £16.10m | £1.6bn | £453.61 | £2.47bn |
| London | £9.85m | £41.16m | £67.04m | £166.04m | £228.97m | £326.90m | £839.96m |
| Paris | £1.92m | £2.83m | £23.49m | £61.49m | £99.45m | £132.40m | £321.48m |
| Singapore | £13.76m | £13.89m | £70.92m | £55.59m | £106.52m | £30.81m | £291.49m |
| Tel Aviv | £14.80m | £17.12m | £5.49m | £39.04m | £112.25m | £89.01m | £277.71m |
| Berlin | £7.09m | £0.79m | £23.60m | £17.41m | £17.67m | £21.06m | £87.62m |
| Bangalore | £1.31m | £32.29m | £45.75m | £1.96m | £36.71m | £18.65m | £136.67m |
Table showing top 15 AI employers in London from Feb 18- Jul' 18
Facebook
Twitter
UCL
Amazon.com
BenevolentAI
Farfetch
QuantamBlack
PredictX
WorldRemit
G-Research
EY
Deloitte
Expedia
AIG
Babylon
Source: Indeed 2018