Whisk launches AI-Powered sponsored product platform for CPG brands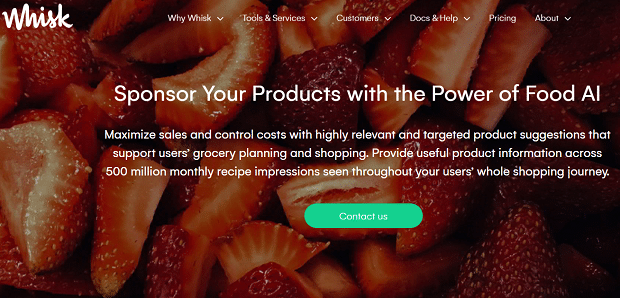 Samsung-owned food ad platform Whisk has launched a Sponsored Product platform aimed at consumer packaged goods firms and food brands.
The new platform offers CPG brands and grocery retailers the ability to maximise sales by assisting their users' grocery planning with useful product suggestions across the shopping journey from the point of recipe inspiration to the point of purchase.
Sponsored Products use precision targeting powered by Food AI to promote individual products in recipe and food content across 500 million monthly recipe impressions. Whisk Food AI leverages millions of data points about every ingredient in the world, its relationship to other ingredients, as well as each ingredient's nutritional value, when it perishes, what it costs, and where to buy it.
"Whisk's Food AI has powered experiences for the world's largest retailers, publishers, CPG brands, and health companies since 2012. Now, we're combining it with the scale of the Open Food Platform to connect the experience and bring together many parts of the food ecosystem that leads to higher conversion for all," said Nick Holzherr, Head of Product, Whisk at Samsung NEXT. "We're thrilled to bring Sponsored Products to market to help our partners reach new shoppers with highly personalised food experiences."
According to research from the Retail Industry Leaders Association and Accenture, the majority of consumers (63%) want more personalised, immersive, and seamless shopping experiences and recommendations.
Consumers are also willing to share their data in return for something they value, with 53% saying they are interested in special offers for items that interest them.
"Consumers seek personalisation and a frictionless experience while brands and retailers are looking for higher ROI. Whisk Sponsored Products influence the path to purchase by only serving relevant and useful product information that complements rather than interrupts the shopping experience. Detailed analytics help brands and retailers control their marketing spend and measure ROI," continued Holzherr.
Sponsored Products are available for brands and grocers.