Over half of consumers now subscribe to video streaming platforms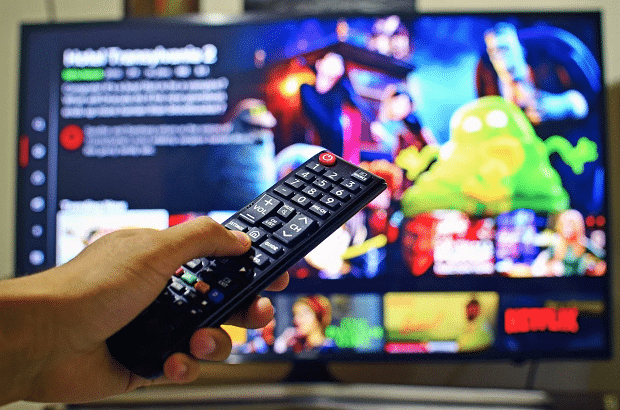 Streaming video subscriptions have grown with 7% since 2017, while music streaming services have also increased 36% during the same time period, according to new data.
According to the latest insights from the Data & Marketing Association (DMA), 51% of consumers now subscribe to a TV/film streaming service, such as Netflix and Amazon Prime Video – a further 12% express an interest in using them.
The figures reveal a steady growth in ownership and interest in media subscriptions over recent years, with 63% of consumers now falling into this category – up 7% from 2017. Ownership of music streaming services (e.g. Spotify, Apple Music, etc.) has also increased to 40%, up from 36% in 2017.
"Subscriptions appeal most to consumers looking for convenience and consistency. Not only in terms of quality and value for money, but also time-saving benefits gained from brands offering relevant recommendations to their consumers", said Tim Bond, Head of Insight at the DMA. "Amid a global pandemic, we are seeing subscriptions continue to show their importance, bringing customers what they want, right to their door. From grocery products to entertainment, subscriptions offer customers easy access to goods and services without having to leave their homes."
The 'Future Trends: Subscription Economy' research is the latest in the Future Trends series, part of the DMA's 2020 Customer Engagement campaign in collaboration with Collinson, dotdigital, Paragon Customer Communications and in partnership with Foresight Factory.
Subscription ownership and interest in the UK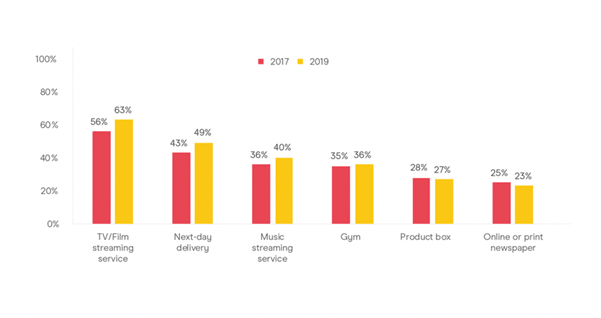 Will subscriptions remain popular in the future?
More generally, the proportion of people owning two or more types of subscriptions has increased from 33% in 2017, to 44% – the strongest appeal coming from Millennials and Centennials.
Age appears to be key, with an average age of 57 years old for those that do not own any subscriptions, whereas those with multiple subscriptions have an average age of 32.
In addition, three-quarters of younger consumers currently have access to subscription services/platforms (75% of 16-24s; 74% of 25-34s).
Bond added: "Subscriptions have opened the way to new models of ownership and the meanings consumers associate with that very concept. In other words, the subscription economy is disrupting consumers' traditional notions of possession. People still feel like they own media content, despite the fact they only have access to it for as long as it's on the platform they pay for."
I currently own or I am interested in owning a paid subscription through which I get sent a monthly selection of products of a similar type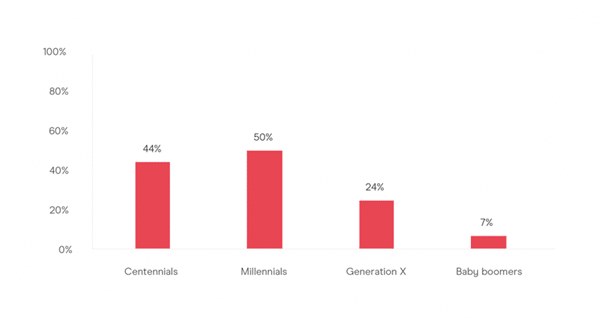 To read more about the DMA's new research, including the full 'Future Trends: The Subscription Economy' research, visit the DMA website.