Rugby World Cup kicks off global TikTok video challenge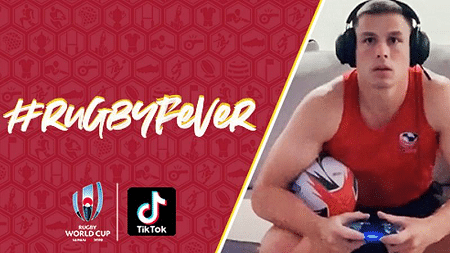 Rugby World Cup 2019 has teamed up with mobile video platform TikTok to launch a channel and hashtag challenge #Rugbyfever.
The challenge invites rugby fans to share videos that show their excitement towards rugby and the 2019 Cup.
The campaign will be available in the UK, France, Italy, Australia, Japan and Argentina.
The challenge began on the 20th of September and will stay live until the end of the event on the 2nd November.
Alongside the hashtag challenge, the Rugby World Cup 2019 has launched a channel on TikTok where it shares short, fun and entertaining videos of the teams, the players, the tournament and more.
The channel has already over 15.5K followers and the most successful content includes two short-video fun videos, one from the South African team and another one from the Canadian team.
"World Rugby is committed to expanding our content to a younger audience," said Marissa Pace, Head of Marketing at World Rugby. "As Tik Tok is a market leader in that space, our teams are working hard to create engaging opportunities with new fans of the sport. The #RugbyFever challenge is just one example of this, with over 12m people engaging with the challenge in the last three days. Tik Tok users can look forward to more great content from us throughout the tournament and we're excited to see what content will be produced by fans throughout the event," added Marissa Pace.
View an example below:
Normanno Pisani, Europe Strategy Manager at TikTok said, "This is a great opportunity for our creators to join the celebration of this year's tournament while sharing their creativity and passion for the game.
"We are honoured to have this prestigious organisation in our already extensive list of sports and event partners and we look forward to continuing to work closely with them."
Rugby World Cup 2019 is one of the latest sporting organisations to join TikTok, reaching its highly engaged and diverse global audience of sports fans.
Previously NFL, Wimbledon and NBA joined TikTok and successfully connected with its global and diverse community around the world.