Valentine's seasonal marketing campaign: Hotels.com puts exes in the dumpster with Anti-Valentine's Day booking tool (USA)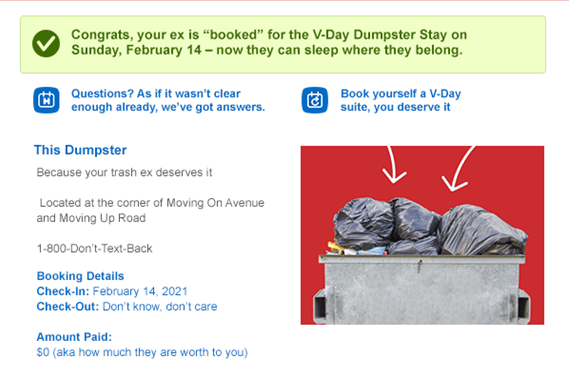 The brand found a way to hack the marketing model of the hospitality industry, creating news and getting talked about in the run-up to Valentine's Day. And guaranteeing front-of-mind awareness on a small PR budget.
Summary
Hotels.com found a creative way to get into the Valentine's Day conversation
PR stunt – letting people reserve a 'dumpster' bin for 'your trash' as a prank for people's ex-partners
Combined with a competition for a $300 Hotels.com credit for your 'get over them' getaway
Challenge
Can you get into the Valentine's Day seasonal conversation in a way that drives cut-through without a big budget? For hotel and hospitality marketing, it's easy to get lost in the noise when the marketing conventions are about romantic breaks, premium packages, and complimentary flowers or champagne.
Typically brands have to spend bigger, discount bigger, or offer bigger value adds. At a time when every hospitality business shares a similar message, Hotels.com was looking for something fresh.
Solution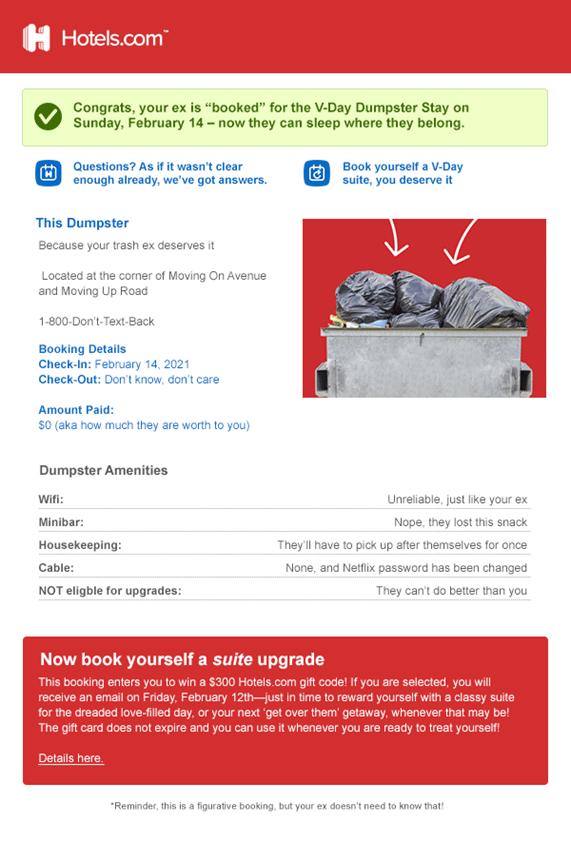 They found a way to hack the hospitality model. Ten days before Valentine's Day, they launched a provoking PR idea to prank ex-partners – by giving them the opposite of a luxury stay.
This 2021 campaign gained attention by doing the opposite of getting into the spirit of Valentine's Day. They invited users to visit their 'V-Day Dumpster Stay' web page and write about why their ex deserves a vacation in a dumpster. All entries were put into a competition to win one of 15 $300 gift cards for use at Hotels.com – so they could enjoy a vacation with someone special to them.
In a cheeky press statement Jennifer Dohm, Head of PR, for Hotels.com in North America, said
"If there are two truths on which we can all agree, it's that we have a terrible ex who should be left in the past, and travel is always one of the best forms of self-love". For her it is a way to be "rewarding travelers looking for a way to move on and move up from their former flames this year with this one-of-a-kind offer".
Results
Although the commercial results are not disclosed, the types of results are clear
The idea drove talkability
Getting people involved in the content generation drove engagement
And like all user-generated-content (UGC), this, in turn, drives private sharing of links
Links to the page from media outlets and to the posts from consumers taking part would have also given additional benefits for search engine optimization.
Why it matters
This challenged the category convention in marketing. Rather than risking high budget media spends that could feel like wallpaper at a time when the market is saturated, their approach got talked about and achieved front-of-mind awareness.
Need more on seasonal marketing?