Your round? Young's pubs launches app payments (with option to split tab)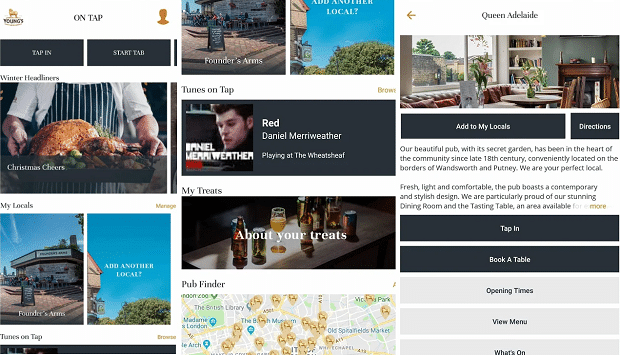 App developer Pepper HQ has worked with mobile payments service provider Judopay to produce an "online-offline" solution for Young's, one of the largest pub chains in the UK.
Youngs on Tap is integrated with IBS POSLink, by Access Group, letting customers to open and pay for their bar tab right from the app, and to share their tab with friends, ensuring that everyone can order and making it easier than ever to settle up.
Launched as an update to the legacy Young's On Tap app, the Pepper solution also give customers the latest what's on news for their favourite Pubs, and regular treats available through the app. Young's can tailor these treats to a customers preferences and behaviour using Pepper's loyalty, rewards and segmentation engine.
Young's on Tap demonstrates a significant move in customer experience in hospitality.
Pepper HQ have designed the user interface and user experience to increase conveniencefor the end consumer. And Judopay has provided the tools needed to create a safe, seamless, and simple payment process. One click, one tap, one swipe, and the product or service is yours.
Consumer enthusiasm for mobile apps and near ubiquity of smartphone users across the world is encouraging businesses across the board to review their customer journey. The ability to be in your local pub and yet select, order and pay just using your phone, and not interacting with another person, changes the entire experience. Young's was founded in 1831, yet their digital experience today is better than most modern incumbents.
The payment element of this journey, whilst sometimes overlooked, is one of the critical parts. Once the customer has decided to purchase an item, a slick and seamless checkout becomes imperative for converting a viewer to a customer, or a customer to a repeat customer.
Judopay focuses on the mobile consumer journey, and on increasing conversion rates for businesses to help their customers get through the checkout process. That is why Pepper HQ partnered with Judopay, to create the best possible experience for consumers, and the best possible conversion rates for businesses.
Jeremy Nicholds, CEO of Judopay said: "Judopay are innovating the payment experience in the mobile space. We're focussed on improving the customer journey across web, mobile and in-app purchases working with partners such as Pepper HQ. We work with innovative and disruptive businesses, like Young's, to enhance the end-to-end payments journey and change the way people pay and we're delighted to be part of the launch of Youngs on Tap."
Adam Robinson, Chief Product Officer at Pepper HQ said: "This is more than just a new app deployment for Young's. The depth of integration to IBS POS is unprecedented. Pepper are well placed to learn from the legacy solutions that have been deployed before us. Reducing complexity in the user experience, for both staff and customers, has been core to our vision from the start. Using the app to run a tab, or pay for the bill, should be the easiest option and many other solutions, including those previously implemented at Young's Pubs, rely on staff having to deal with complexity that disrupts service. In partnership with JudoPay, this is just the start of how Pepper can change the ordering and payment journey for a merchant –we're excited about the year ahead"