Case study: Nike engages locked-down public to compete with sports stars via social media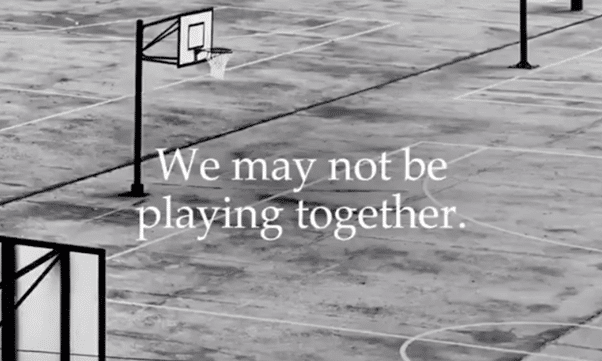 As the Covid-19 pandemic set in, Nike adapted its marketing to cater for a locked down audience at home. This case study looks at how the brand used its signature themes of determination, inspiration, and performance to engage consumers via a social media competition… with a superstar twist.
Case study summary
Sportswear brand wanted a way to stay relevant and drive brand engagement during Covid-19 lockdown when live sport and exercise is limited
Created content and social media campaign focused on indoor challenges
Used famous sports stars to encourage engagement
Branding focused on big names and members of public to create a sense of global community
Campaign attracted thousands of social media interactions and 10m video views on Instagram.
Challenge
What space is there for a sports brand in a time when big events are banned and exercise is limited? This was the challenge facing Nike when the Covid-19 epidemic struck in early 2020. Many brands initially responded to the coronavirus outbreak by encouraging the message of social distancing. But as people settled into their lockdown lives, the sportswear brand market leader needed a way to stay relevant through powerful online messaging.
Solution
The 'Play for the World' campaign, created by Wieden + Kennedy, pushed the message that we must all do our bit for the world and 'play inside'. The first ad in the campaign, 'You Can't Stop Us', included images and video footage of people working out in their homes, be it in their kitchens, bathrooms, bedrooms, or basements. As well as a few famous faces, including basketball star LeBron James and volleyballer Sara Hughes, the ad featured lesser-known and unknown fitness fans to reinforce the sense that we are all in it together.
Nike then followed this up with a call to action – a message of 'Play Inside'. The brand got sports stars (social media influencers in their own right) to run a series of fitness challenges on social media. The 'Living Room Cup' competition was a digital workout series where athletes set challengers for users to take part in at home. Cristiano Ronaldo was the first person to set a challenge, inviting users to try and beat his 'core crusher' abs workout, and to tag themselves using the hashtags #playinside and #thelivingroomcup. Not only did the series help to reinforce the message of staying home, but the premise also incentivised and inspired users through sport, by giving them the chance to compete against global athletes.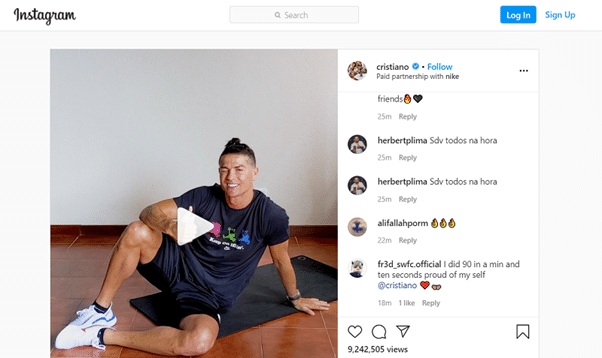 Nike furthered its community message encouraging users to exercise at home by streaming free live workout classes every Sunday on YouTube; each one hosted by a 'Nike Master Trainer'. The free app, which was usually subscription-based, offering users a variety of training programmes and workout videos from brand experts.
Results
Thousands competed in the first Living Room Cup, tagging themselves trying to match the reps of a footballing superstar. The Instagram post was viewed more than 10 million times in the first week alone. The 'Play for the World' video was viewed more than 4 million times in the first 2 weeks.
Why it matters
At a time when everyone's day-to-day activity had been disrupted – including both global athletes and humble joggers – Nike created a campaign that aimed to unite us all in our 'new normal'. It's hard for brands to strike the right balance during a global crisis, without coming across as either trite or patronising. Nike found a way around this by sticking to its key strengths of action and sports star clout to keep the message authentic, relevant and actionable. By enlisting the help of relevant influencers, Nike also ensured that its campaign resonated with consumers, and reinforced the idea that we were all united in the same cause.