Spotify revenues soar 30% as paid subscribers hit 96m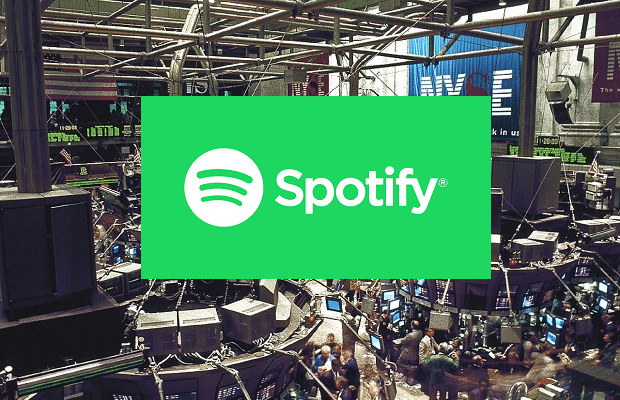 Spotify ended the year with 207 million monthly active users (MAUs) including 96 million premium subscribers, marking a rise of 29% and 36% year-on-year, respectively.
Spotify reported revenues of just under €1.5bn for the fourth quarter of 2018, up 30% year-on-year. That included a 30% growth for its subscription revenues to €1.32bn and a 34% growth for its ad-supported revenues to €175m.
Spotify recording an operating profit in Q4 2018 of €94m compared to a loss of €87m in Q4 2017. Meanwhile, the company reported a quarterly net profit of €442m, compared to a loss of €596m in that year-ago quarter. Bear in mind the impact of the December IPO of Tencent Music, which Spotify had a stake in, here.
"For the first time in company history, operating income, net income, and free cash flow were all positive," it noted in its financial release.
36% of Spotify's listeners are in Europe, versus 30% in North America, 22% in Latin America and 12% in the rest of the world. For subscribers, the percentages are 40% in Europe, 30% in North America, 20% in Latin America and 10% in the rest of the world. Spotify said that "performance to date has exceeded our initial expectations" for its recent launch in the Middle East and North Africa.
"We also reached an important milestone as users listened to more than 15 billion hours of content on the platform during Q4. Importantly, engagement grew across both the Ad-Supported and Premium tiers," reported Spotify.
Spotify's average revenue per user (ARPU) was €4.89 in the final quarter of 2018. That's a 7% year-on-year decline, which the company attributed to its growth in family and student plans.
Spotify also published its guidance for 2019. By the end of this year, it expects to have between 245 million and 265 million monthly active users, including 117-127 million premium subscribers. It's forecasting annual revenues of €6.35bn-€6.8bn, but an operating loss of between €200m and €360m for the year.
The news came as Spotify confirmed it is buying not just one, but two podcast firms: Gimlet Media and Anchor. The former is a podcast production company, while the latter makes an app that people can use to create podcasts.
Katie Gilsenan, Senior Trends Analyst at GlobalWebIndex, said: "Music streaming is one of the most popular forms of entertainment – it constitutes around 12% of daily media time among internet users. Whilst people still actively listen to the radio, it is undeniable that music streaming giants the likes of Spotify, Apple Music and SoundCloud have become a force to be reckoned with.  47% of internet users prefer to access music via online streaming services rather than paying to own music content offline. Spotify continues to be at the centre of this growth in appetite for music streaming too, so its earnings results are not so surprising, particularly when you consider 38% of Spotify users say they make use of a premium account.
In 2018, 64% of internet users aged 16-64 admitted to using music streaming services. Unsurprisingly, millennials are the ones making the most of services such as Spotify (76%). In fact, millennials are around 29% more likely than average to have paid for a music streaming service last month, with 28% having done so.
Spotify remains the leader among the major music streaming services outside of China, but key to its continued success will be maintaining its ad-supported tier which has so far ensured that it boasts a larger reach than any competitor."
GlobalWebIndex also provided a table of global insights for music streaming platforms:
| | | | |
| --- | --- | --- | --- |
| | Average time spent per day in 2018 | % of Internet users globally in 2018 | YoY % increase in users(2017-2018) |
| Spotify | 01:49 | 20% | 5% |
| Deezer | 01:58 | 5% | 2% |
| YouTube Music (as of Q3 2018) | 01:49 | 4% | N/A |
| Pandora | 01:49 | 3% | 0% |
| SoundCloud | 01:50 | 12% | 0% |
| Apple | 01:54 | 10% | 1% |
| YouTube Platform Users | 01:17 | 37% | 1% |