The World's Most Influential CMOs: Unilever's Keith Weed tops list
Keith Weed, chief marketing and communications officer at Unilever has come out top of Forbes 2017 list of the world's most influential CMOs. The 2017 ranking reflects some of the most creative, forward-thinking marketers who are no longer just the branding arm of the business — they're the driver of company-wide transformation. Forbes partnered with […]
Keith Weed, chief marketing and communications officer at Unilever has come out top of Forbes 2017 list of the world's most influential CMOs.


The 2017 ranking reflects some of the most creative, forward-thinking marketers who are no longer just the branding arm of the business — they're the driver of company-wide transformation.
Forbes partnered with Sprinklr and Linkedin to build the list of Top 50 CMOs using an extensive data-driven analysis that measured performance in a number of ways, including social engagement/mentions and industry/internal influence between January 1, 2016 and February 1, 2017.
The top ten are:
1. Keith Weed @ Unilever
2. Antonio Lucio @ HP Inc.
3. Phil Schiller @ Apple
4. Linda Boff @ GE
5. Leslie Berland @ Twitter
6. Marc Mathieu @ Samsung Electronics America
7. Musa Tariq @ Ford Motor Company
8. Jonathan Mildenhall @ Airbnb
9. Raja Rajamannar @ Mastercard
10. Karen Walker @ Cisco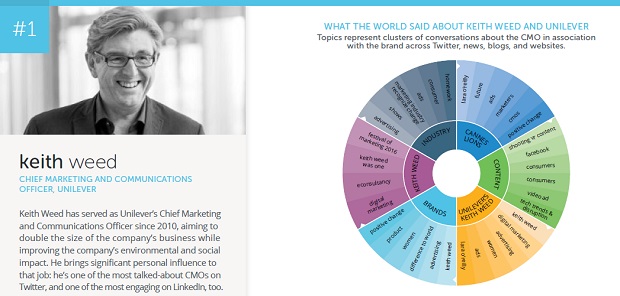 Image source: Forbes report in partnership with Sprinklr and LinkedIn
Along with an instructive look at what brought these 50 CMOs to the top, the report examines:
• How are Top CMOs fostering deeper levels of engagement with their customers?
• How are they contributing to the transformation of their entire enterprise?
• How are they advancing their brand and contributing to broader industry trends?
• How are they impacting their company's financial performance?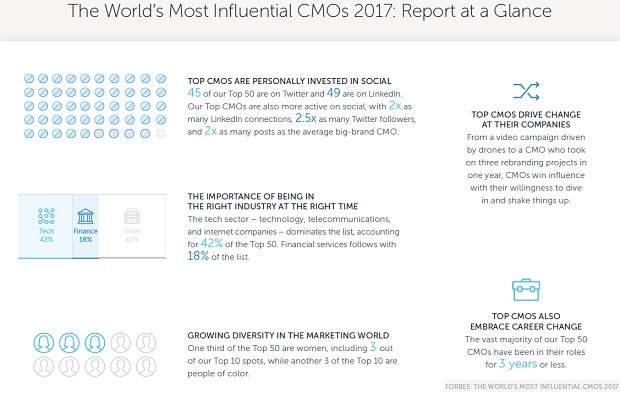 Image source: Forbes report in partnership with Sprinklr and LinkedIn
Download the full report here