Facebook takes on YouTube with "Watch" video platform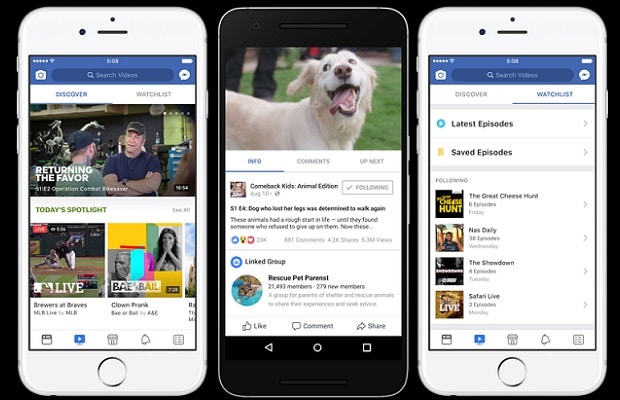 Facebook is launching a new platform which will see the the social network pitted against the likes of Amazon and YouTube.
The launch will see users of the site given a "Watch" tab on their feeds enabling them to view a range of shows from comedy or reality to live sport.
They will also be able to create "watchlists", see what friends are watching and communicate with other people interested in the same videos. Some of the shows will be paid for by the social network.
Facebook founder Mark Zuckerberg said in a post on the site: "Watching a show doesn't have to be passive.
"It can be a chance to share an experience and bring people together who care about the same things.
"That's why we're launching the Watch tab in Facebook – a place where you can discover shows your friends are watching and follow your favourite shows and creators so you don't miss any episodes."
He said some of the content would be made by "professional creators" and others by "regular people in our community".
Watch will initially be available to a limited group of people in the US on mobile, desktop and TV apps, before being made available to more people in the US in coming weeks.
Facebook said it was starting by "testing with a limited group of publishers and creators who are making shows".
It pitches the firm against Google – owner of YouTube – as well as the likes of Netflix and Amazon.
The announcement comes after entertainment giant Disney said it was also launching its own streaming service.
Commenting on the move, Dror Ginzberg, Co-Founder & CEO of Wochit said: "This move is far more than just the creation of a new tab on Facebook. This is effectively the launch of Facebook TV and I think we can count on this being the first step toward the social media giant broadcasting its own original content."
A key approach will also be to broadcast live sports events too. Previously, sports, like the Mexican football league, had been broadcast on Facebook Live, but the new Watch tab is the natural home for this now. We may also see Facebook finally become a player in the race to broadcast the Premier League when the rights are up for auction next year."