Facial recognition marketing firm OfferMoments gets £1.5m funding boost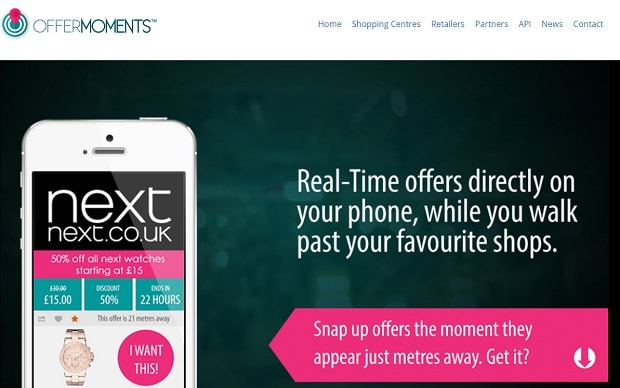 Facial recognition ad platform OfferMoments has received a £1.5 million boost to help fund its new innovative Out-Of-Home-advertising service.
Michael Edelson, director of Manchester United, has led this injection of funding, along with Paul Althasen, a mobile industry veteran who founded MPC and sold it to Vodafone.
This new wave of investment has been led by Michael Edelson, who has been a director of Manchester United since 1982. Michael has been instrumental in floating numerous companies on the AIM stock market.
Amongst the companies were ASOS plc and Knutsford plc, which reached a value of £1 billion within a month of flotation.
Investors in OfferMoments include Paul Althasen, a mobile industry veteran who founded MPC and sold it to Vodafone, and Apadmi Ventures, the investment arm of leading mobile technology group, Apadmi.
The investment will be used to back the launch of an innovative new marketing product, which is currently in development. Details of the product are being kept under wraps until its expected launch in October 2017, but developers are promising that it will disrupt the growing £1billion outdoor advertising market.
Since it's inception in 2014, OfferMoments has been at the forefront of marketing innovation including the launch of its personalised digital billboard powered by facial recognition and mobile data technology. The board enables shoppers to see their face on the screen, where a special offer or item suggestion from a nearby store is then displayed based on their personal tastes.
In recognition of its achievements, the company has also won a number of prestigious accolades, including the People's Choice award at Prince Andrew's Pitch @ Palace programme in 2016.
Abdul Alim, chief marketing officer of OfferMoments, said: "This is a really exciting time for us as we continue to expand our offering and develop an innovative new OOH service, which we believe will transform the face of advertising as we know it. The investment will contribute to the ongoing development of the product and help us to successfully launch it to the market."
Howard Simms, CEO of Apadmi Ventures, said: "OfferMoments is a truly revolutionary business that is constantly on the lookout for innovations that can disrupt the world of advertising.
"At Apadmi Ventures, we are dedicated to investing in technology businesses in the North that are set to completely disrupt their sectors. After hearing about OfferMoments' unique business venture, we're convinced that it is going to be a game-changer. We're looking forward to working with the team and seeing what we can achieve together."