Snapchat debuts 'Stories for Brands': HBO and ASOS first to sign up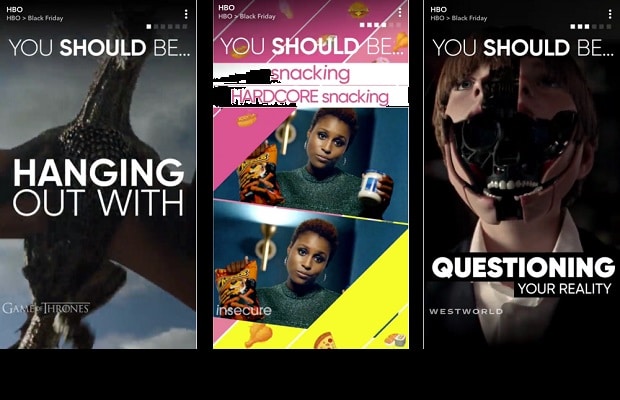 Snapchat has launched a new Promoted Stories feature, billed as a way for advertisers "tell deeper stories", with HBO and ASOS among the first brands to sign up.
The format lets brands string together images and videos which disappear within 24 hours of being live.
In the UK and France, Asos used its first promoted story to push Black Friday shopping deals. In the US, HBO promoted a story highlighting the reasons customers should stay inside on Black Friday, linking through to free episodes of Game of Thrones, Insecure and Westworld.
This branded content is served between Stories from users' friends, and when they 'swipe up' on Promoted Story Snapchatters are directed to a website, article, or app install.
It works in much the same way as arch rival Instagram's offering, which launched its own branded Stories last year.
Advertisers are required to include at least three Snaps, but no more than 10, in a Promoted Story. Like a regular Story, a Promoted Story will automatically transition from one Snap to the next. Each Snap included in a Promoted Story is effectively a Snap Ad.
Brands can add attachments to each snap in a Promoted Story so that people can swipe up to visit a brand's site, check out a branded article or install its mobile app.
Content posted to Snapchat Promoted Stories is automatically labelled as paid-for content, with text saying 'Ad' overlayed in a manner similar to Instagram's 'Sponsored' Stories badge.
Snapchat's new Promoted Stories format gives advertisers their own slot in the app's Stories tab.
Stories will only be displayed in the Stories tab, not the Discover tab, according to a Snapchat spokesperson.
Peter Sellis, Director, Revenue Product, Snap Inc., said: "Our advertising partners have been asking for ways to tell deeper stories on mobile. Promoted Stories offer marketers access to the same Stories format used by our community, combined with the reach and placement enjoyed by publishers on the app."
Snapchat is selling Promoted Stories at an undisclosed flat rate as a single-day, countrywide takeover, making it the second such ad format introduced by the company in 2017.
Earlier this year, Snapchat rolled out Snap Ads Max Reach, which offered brands a way to have their vertical video Snap Ads shown to all eligible users in a given country on a given day.
Snapchat will tell advertisers how many times people saw their Promoted Story tile and how many times they opened the Promoted Story, as well as the total number of unique impressions, earned impressions, conversions and the effective cost of those impressions based on the ad's performance and fixed price.
Leila Thabet, Global Content and Engagement Director, ASOS, added, "We're excited to be one of the first brands to launch Promoted Stories and hope we can do it in a way that's fun and engaging for the people out there who love ASOS."
What is a Promoted Story?
Promoted Stories consist of three to ten Snaps that auto-advance to tell a longform story.
They appear via a tile, similar to existing premium content on Snapchat.
They're made-for-mobile, meaning fullscreen with sound on.
They're currently purchased as one-day takeovers by country.
What do Promoted Stories look like?
They can have the look and feel of either a Publisher Story or a user Story.
Snapchat creative guidelines encourage brands to tell a cohesive story — through three to ten Snaps that auto-advance, so brands can create a longform narrative.
Each Snap can also offer a 'swipe up' to view a website, article, or app install, and the tile and Snaps feature an 'Ad' mark.