Valentine's seasonal product innovation: Puerto de Indias amplifies love with influencers (Spain)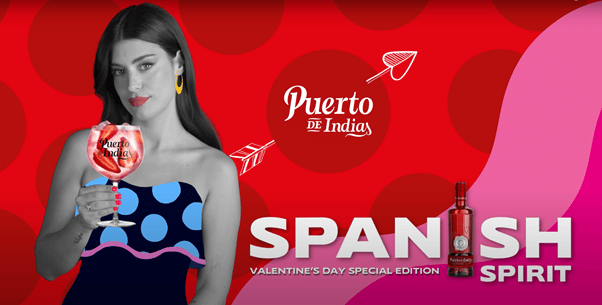 A best-in-class execution of drinks marketing innovation, exciting consumers, building trade marketing engagement, and driving sales. And with exactly the right influencer for their audience.
Summary
Product innovation to create special editions for Valentine's Day
A strong selling story around these product variants
A perfect choice of influencer to get cut-through
Challenge
How does a brand in a category not associated with Valentine's Day get seen and get chosen? In the alcoholic beverages category, sparkling wines, champagnes, and high-end red wine and white wine dominate the sales. This Spanish gin brand needed a way in.
Solution
Product innovation to create a special edition, building the connection with love and finding the right influencer to partner with.
Working with integrated communications agency, Serviceplan Spain, the Spanish gin brand launched a special collection of its iconic pink bottle, unifying the red color of strawberries and love. There were four original bottle designs, chosen by brand adorers of the sweet gin. These designs were tested among the #PuertoLovers, and the brand listened to their followers and chose to launch four product variants (rather than the one that was intended).
Each of them is inspired by a phase of love to celebrate the moment in which we feel: Attraction, Seduction, Falling in Love and Real Love. This creates a story that drives gifting, collectables, and multiple buying.
This type of campaign needed an influencer to get cut-through. Brand Puerto de Indias found a strong match with the popular Spanish influencer Aida Domenech (3 million Instagram followers).
Results
Although business results were not shared, the model of seasonal variants is a proven part of CPG advertising. The trick is to plan for the right sales volumes, launch early enough to hit the retail window and support with effective trade promotion, so it cuts through the clutter.
Brand Puerto de Indias managed to go further and create a story around the 4 variants of the product. This would have driven additional sales as well as talkability.
Why it matters
FMCG / CPG advertising often relies on a strong innovation pipeline to give people a reason to consider purchase. This is a simple, solid example of innovation in action. What it also shows is careful choices about which cultural moments the brand could align to. And involving brand adorers in the selection of the variants drives additional engagement, talkability, and purchase intent.
Need more on seasonal marketing?